'A Wrinkle In Time' Star Storm Reid Joins David Oyelowo In Thriller 'Only You'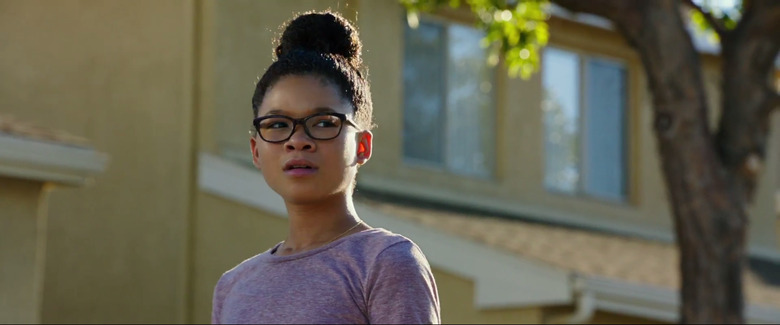 A Wrinkle in Time hasn't even hit theaters yet, but young star Storm Reid is already booking exciting new projects.
Having shouldered an anticipated Disney sci-fi blockbuster that boasts a slate of Oscar-nominated stars and directors, Reid's next choice is understandably a little more low-key.
Storm Reid has joined David Oyelowo in the Blumhouse Productions time travel thriller Only You, according to Variety.
Helmed and written by horror director Jacob Estes (Sadako 3D), Only You is the next project from Blumhouse, which further cemented its reputation as a name in critically-acclaimed budget horror movies this year with M. Night Shyamalan's Split and Jordan Peele's Get Out.
Reid will be playing the niece of Oyelowo's police officer character, whose family is killed. No other details are known about the film.
Though Reid made her feature film debut in 12 Years a Slave and has appeared in Sleight, A Wrinkle in Time looks to be her breakout role. Although she didn't get to do much in the trailer that debuted at D23 this weekend other than look perplexed, it's a huge indicator of talent that Disney will entrust one of its most anticipated blockbusters on the 14-year-old's shoulders. The story called for a child actor (Meg Murry is 13 years old in the book), but Disney likely searched long and hard for a young star that would live up to the part. It's daunting to act alongside Oscar nominees and winners like Oprah Winfrey and Reese Witherspoon, as well as actor-producers like Mindy Kaling, but Reid seems to be doing swimmingly in the part. And Ava Duvernay is one of the most exciting, talented directors today who has an eye for spotting stars — it was her film Selma that brought Oyelowo into the American public consciousness.
So it's fitting that Reid's next film will be alongside Oyelowo. Reid seems to be surrounding herself with talent in the early days of her career, which is a smart move for any young actor. Needless to say, I'm excited about her potential, and cannot wait to see her in A Wrinkle in Time when it hits theaters in March 2018.
Meanwhile, Only You began production this Monday. Oyelowo is executive producing with Jay Martin and Blumhouse's Couper Samuelson and Jeanette Volturno. There is no set release date.