'Bright' Trailer: Will Smith Is Not Here To Make Friends [Comic-Con 2017]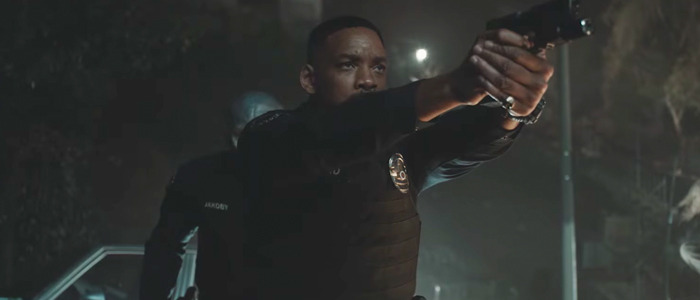 David Ayer is no stranger to depicting cops on film. He's made some good, gritty and dirty crime thrillers with End of Watch and Street Kings. Cops and Los Angeles fit comfortably in the filmmaker's wheelhouse. It's a world and genre he knows well. Ayer has now made another cop movie, Bright, which stars Will Smith and Joel Edgerton. They're playing partners, but they're a little different from the partners from Ayer's previous movies: one of these is an orc. A hard-edged David Ayer movie with Will Smith, orcs, and fairies sounds like a blast, and it looks like one, too.
Below, watch the Bright trailer.
Bright trailer
Will Smith's Ward and the very first Orc cop in the LAPD, Jakoby (Edgerton), go on a routine patrol one night that leads to a whole mess of fantastical trouble for them. Few details are known about Max Landis' (American Ultra) script, which Netflix paid him a hefty $3 million for, but the trailer gives us a better idea about the story: these mismatched partners have their eye on a magic wand, which looks like a weapon that's remarkably dangerous, even for a world as crazy as this one.
Max Landis (Chronicle) wrote the script, and Bright was originally shopped around as a $80-$100 million film to studios. After a bidding war lasting two weeks, Netflix landed the fantasy film by ponying up $90 million, with $45 million for the production budget. One studio offered a greenlight and $55 million, but the team behind Bright rejected the offer and waited for Netflix to come around.
Smith and Ayer, of course, previously worked on Suicide Squad, a movie that feels compromised in parts. Based on this footage and everything Ayer has said so far, he might've had more freedom to do his thing with Bright. His style is front and center of the new trailer. It looks like orcs and magic have entered the realm of End of Watch. Bright co-stars Noomi Rapace, Edgar Ramírez, Ike Barinholtz, and Brad William Henke.
Set in an alternate present-day where humans, orcs, elves, and fairies have been co-existing since the beginning of time. Bright is genre-bending action movie that follows two cops from very different backgrounds. Ward (Will Smith) and Jakoby (Joel Edgerton), embark on a routine patrol night and encounter a darkness that will ultimately alter the future and their world as they know it.
Bright will be available to stream on Netflix starting on December 22, 2017.