'Wind River' Trailer: Elizabeth Olsen And Jeremy Renner Investigate A Land With No Backup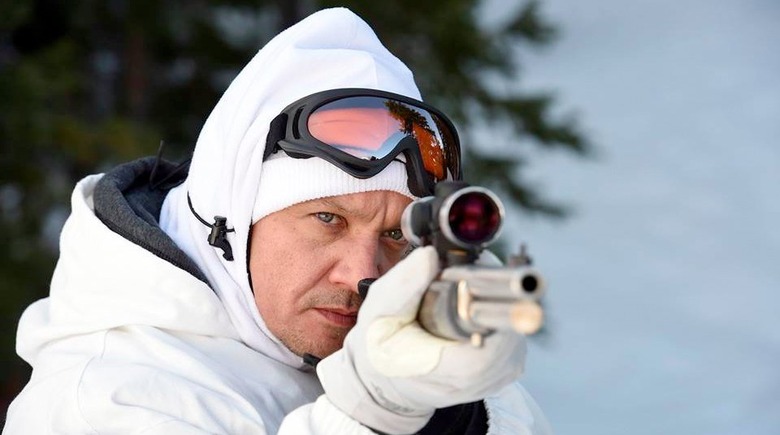 Taylor Sheridan knows how to write a taut thriller. The screenwriter behind Hell or High Water and Sicario tells stories that are heavy on mood and character. His plots are remarkably simple, with his characters carrying most of the weight. His first two produced scripts showed an exceptionally strong grasp of character and tension, so of course, we're excited to see what he can accomplish behind the camera with his directorial debut, Wind River.
Below, watch the new Wind River trailer.
Elizabeth Olsen plays an FBI Agent, Jane Banner, sent to the Wind River Indian Reservation to investigate a murder. In the harsh cold and environment, she'll work on her first big case with someone more familiar with the land, US Fish & Wildlife agent Cory Lambert (Jeremy Renner). At the beginning of the film, it's Lambert who discovers the body of a young woman in the mountains.
Here's the Wind River trailer, which features a seal of approval from author Dennis Lehane (Gone Baby Gone):
Like Sicario, Sheridan is thrusting a character into unfamiliar territory with Wind River. That's always a great way to create more danger, raise the stakes, and provide the lead with conflict. Sheridan is good at throwing his characters into the deep end first. Olsen's work looks especially strong here, as does Renner's. Both their performances were praised when Wind River premiered at the Sundance Film Festival, where our own Ethan Anderson reviewed the film:
When the third act comes around, we get what Taylor Sheridan does best. The climax of this movie packs a shocking punch with an intense face-off that will have you gripping your armrests in theaters. It's not exactly enough to overshadow the derivative nature of the first two acts, but it's still pure entertainment and suspense as only Taylor Sheridan can deliver.
After the success of his first two scripted features, Sheridan has a lot of irons in the fire. He's working on a television series with Kevin Costner, his sequel to Sicario has already been shot, and he recently wrote the remake of a great French thriller, Disorder, which James Mangold (Logan) is attached to direct. He writes thrillers with equally captivating drama and suspense, so the more we see from him, the better.
U.S. Fish & Wildlife agent Cory Lambert discovers a body in the rugged wilderness of the Wind River Indian Reservation. The FBI sends in rookie agent Jane Banner, but she's unprepared for the difficulties created by the oppressive weather and isolation of the Wyoming winter. When she employs Cory as a tracker, the two venture deep into a world ravaged by violence and the elements. Wind River is a stark look at life on the edge of an imposing wilderness, where the rule of law is eclipsed by the laws of nature.
Wind River opens in theaters August 4.