Dev Patel And Ben Stiller To Star In 'Chippendales' Movie About The Famous Male Strip Club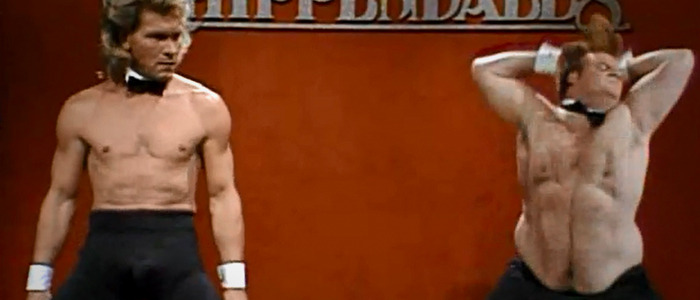 A movie based on the creation of the famous Chippendales male strip club back in the 1980s has been kicking around Hollywood for decades, and it seems like all it needed to finally get some legitimate traction was the greased up dance moves of the Magic Mike movies. Bold Films has reportedly committed to finance the new Chippendales movie, which has Ben Stiller (Zoolander) attached and Dav Patel (Slumdog Millionaire) in talks to play the lead role.
Deadline says Patel is in talks to play Somen "Steve" Banerjee, an Indian-born man who moved to California and eventually grew bored with operating a gas station. So Banerjee bought a struggling nightclub and instituted a male exotic dance night, which caught on in a major way and became the spark that birthed the Chippendales empire. The company expanded from a single location to a worldwide operation with huge name recognition, which resulted in exactly the type of drug-fueled infamy you'd expect from a success story at that time.
Stiller, who has been attached to the project for years, is still on board to play Nick DeNoia, the company's recruiter and choreographer. Spoiler alert for real life events, but after a disagreement, Banerjee hired a hit man to kill DeNoia (he succeeded; DeNoia was shot in the face in 1987) and was later charged with conspiring to murder former Chippendales employees he considered to be competition for his business. Hours before he was supposed to be sentenced to decades in prison, Banerjee was found dead in his jail cell; he hung himself rather than serve his jail time.
Directors like Oliver Stone, Barry Sonnenfeld, David Michod, and even Tony Scott have been attached to this story over the years, and the project has gone through a number of writers as well. It's still waiting to find the perfect director, but we know Isaac Adamson is writing the final version of the screenplay. You may recognize Adamson as the man who wrote Bubbles, the Black List-topping script about Michael Jackson's pet chimp that Thor: Ragnarok director Taika Waititi is making into a stop-motion feature.
This story has been told on screen twice before, first in 2000's made-for-TV film The Chippendales Murder (starring Naveen Andrew, aka Sayid on Lost!) and then in a movie called Just Can't Get Enough in 2002. Here's the trailer for that one, and boy, it's a doozy:
OK, so now we all know where the bar is set. I'm confident this new Chippendales project won't sink below it.