'Naked' Trailer: Marlon Wayans Is Caught In A Time Loop In This Netflix Movie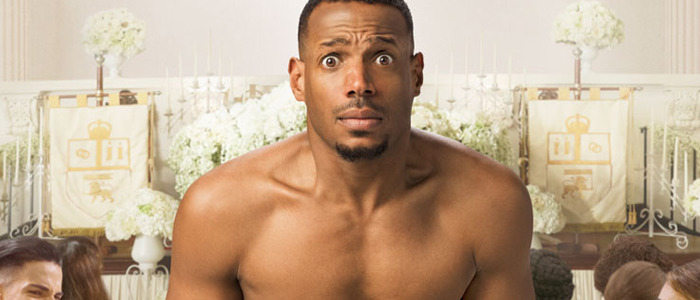 For happy couples, the idea of reliving your wedding day might be a dream come true. But for Marlon Wayans' character in the upcoming Netflix movie Naked, it's a total nightmare. In the new Groundhog Day-inspired comedy, Wayans wakes up naked in an elevator and encounters comical amounts of resistance as he races to make it to his own ceremony on time. Check out the full Naked trailer below.
Naked trailer
There are a lot of cinematic influences here, but it seems most accurate to call this movie a cross between Groundhog Day and The Hangover. An irresponsible man-child goes out to party with his best man the night before his wedding and wakes up naked and alone in an elevator, with no clue how he got in that position. Sounds an awful lot like The Hangover, doesn't it? And instead of Sonny and Cher's "I Got You Babe" on the radio alarm clock serving as the inciting sound that wakes the character up and begins a new cycle, as it does in Groundhog Day, this time it's the "ding" of that elevator. As for whether or not hilarity ensues, well, your mileage may vary with many of these jokes.
Regina Hall, Dennis Haysbert, Loretta Devine, Scott Foley, Cory Hardrict, Eliza Coupe, JT Jackson, Brian McKnight, and Minka Kelly co-star, and Michael Tiddes (Fifty Shades of Black) directs.
When Rob Anderson (Marlon Wayans), a charming man-child, arrives in Charleston the night before he is about to marry the woman of every man's dreams, Megan Swope (Regina Hall), he hasn't written his vows, learned the steps for the first dance, or even remembered to bring the ring. Instead of taking care of his responsibilities, Rob goes out for a night on the town with his best man (Jonathan Todd Jackson). Then something unexpected happens... Rob wakes up naked in an elevator with no idea how he got there. When the elevator doors open Rob is shocked to find that it's late in the morning and he has only one hour to get to the church or miss his own wedding. He tries desperately to get to the chapel, streaking through a city marathon, stealing clothes, avoiding capture by local police, a near death confrontation with a vicious motorcycle gang, and many other obstacles only to find himself waking up in the elevator again and again. Some unknown force has conspired to make Rob live this hour repeatedly until he finally grows up and becomes the man that his amazing fiancée deserves to marry.
Naked hits Netflix on August 11, 2017.