'DuckTales' Sneak Peek: Kids Will Be Kids, Even 30 Years Later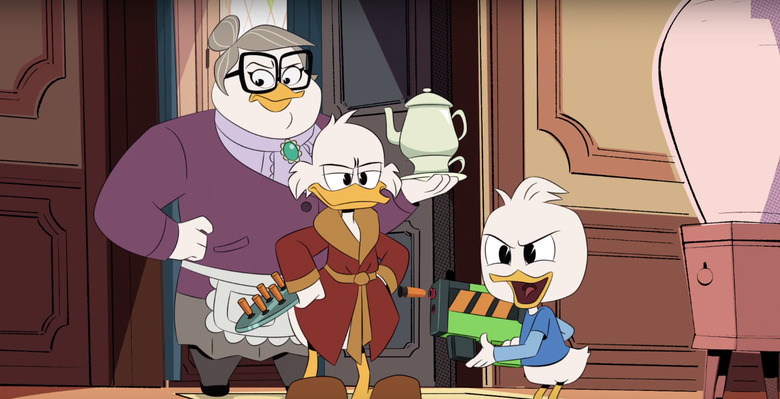 DuckTales is returning to our TV screens, 30 years after the original classic animated series first aired on Disney Channel.
Now a new generation of viewers can see the whole gang in the Disney XD reboot in 2017. The gang's all here and back to their old shenanigans in Scrooge McDuck's iconic mansion, as we can see in the D23 sneak peek of the 2-D animated series.
The 3-minute long sneak peek shows a scene from the new DuckTales, a series about the miserly Scrooge McDuck taking in several of his relatives to live in his enormous mansion. Surprisingly, the Scrooge in this peek seems positively affable, brushing aside his housekeeper Mrs. Beakley's complaints about his rowdy grand-nephews Huey, Dewey, Louie, and their intense friend Webby, and telling her "kids will be kids."
But it's when he finds his nephew Donald Duck littering the bathroom with his laundry that something snaps, and he screams for a "house meeting."
Here's the official synopsis of the new DuckTales below:
"DuckTales chronicles the high-flying adventures of Duckburg's most famous trillionaire Scrooge McDuck, his mischief-making triplet grandnephews, Huey, Dewey, and Louie, temperamental nephew Donald Duck and the trusted McDuck Manor team: big-hearted, fearless chauffer/pilot Launchpad McQuack, no-nonsense housekeeper Mrs. Beakley and Mrs. Beakley's granddaughter, Webby Vanderquack, resident adventurer and the triplet's newfound fierce friend."
The animation style of the new DuckTales is reportedly inspired by Carl Barks' classic comic designs, and its September premiere will coincide with the original Emmy Award-winning series' 30th anniversary. The original series left Donald Duck out of the picture, as he was set to join the Navy, and focused primarily on the bubbly Huey, Dewey, and Louie cracking their great-uncle Scrooge's hard, cold exterior.
In the new series, Donald Duck will reluctantly take in Huey, Dewey, and Louie to live at Scrooge's mansion. "Enthralled by their once-legendary great-uncle and the wonder of McDuck Manor," Deadline describes, "the triplets and Webby learn of long-kept family secrets and unleash totems from Scrooge's epic past, sending the family on an adventure of a lifetime to the Lost City of Atlantis."
David Tennant stars as Scrooge McDuck, Danny Pudi as Huey, Ben Schwartz as Dewey, Bobby Moynihan as Louie, Kate Micucci as Webby Vanderquack, Beck Bennett as Launchpad McQuack, Toks Olagundoye as Mrs. Beakley, and Tony Anselmo as Donald Duck.
The series is executive produced by Matt Youngberg with Francisco Angones serving as co-producer and story editor. Sean Jimenez is the art director.
DuckTales premieres as an hourlong television movie presented for 24 consecutive hours beginning Saturday, August 12 on Disney XD.