The Water Cooler: Revisiting 'A Wrinkle In Time,' Disney's New 'Fantasmic,' And A Great New RPG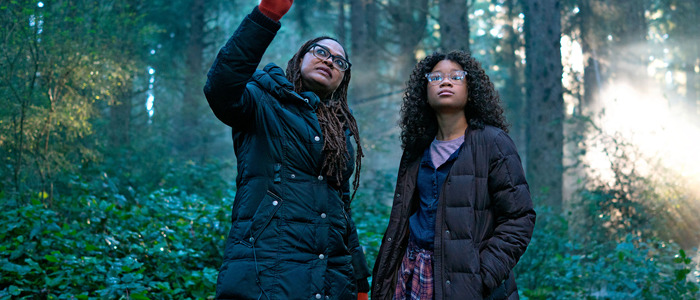 Welcome to The Water Cooler, a weekly feature where the /Film staff is free to go off-topic and talk about everything except the movies and TV shows they normally write about. In this edition: A Wrinkle in Time revisited, an incredible new RPG, a preview of Disneyland's new version of Fantasmic, a look at John Mayer's new album, and a Luc Besson marathon at The Egyptian.
Hoai-Tran Bui is Re-Reading the Wrinkle in Time Books
I don't think I realized how big an impact the Wrinkle in Time books made on me as a kid until I saw the trailer for Ava Duvernay's 2018 adaptation. It looked nothing like the story I remembered — nor like the story as it was described in the 1963 book, really — but it somehow captured the essence of that wonderful sci-fi/fantasy novel. And no, I wasn't bothered by the glossy Disney sheen nor the ostentatious high-fantasy get-up that Oprah is wearing. It was magical.
So that afternoon, I picked up my old copy of A Wrinkle a Time, which I don't think I'd opened since I first read it 20 years ago. It was one of my first chapter books, after The Chronicles of Narnia and The Boxcar Children, and I remembered vividly exactly one scene: a boy bouncing a ball in a manicured, generic suburban neighborhood. Reading it again, it surprised me how formative it actually was in the kinds of stories I liked: an abstract battle of good and evil, weird time and space travel, and the power of humanity and love. It was essentially a guide book on "every movie HT will love in the future." Its religious elements did catch me off guard, however. The Christian underpinnings of the novel aren't quite as blatant as Narnia, but you could tell this was the one fantasy book that strict Christian parents would allow their kids to read.
I read A Wrinkle in Time in barely more than a day — it proved to be very simply written, with pretty general descriptions of characters and worlds, which probably lent Duvernay a ton of creative freedom when making the film. I have the next two books, A Wind in the Door and A Swiftly Tilting Planet (that's right it's a series) already in my collection, though I may go on to read the next two, Many Waters and An Acceptable Time for the first time. I may even go rewatch the TV movie adaptation from 2003. Needless to say, I can't wait for the new film and the prospect of a beautifully diverse cast and Hot Dad Chris Pine.

Jacob Hall is Reading the Manual For the RPG Blades in the Dark
Roleplaying games can be daunting. The common perception of these being experiences driven by spreadsheets, charts, and tables and is often accurate. Even in its user-friendly fifth edition, Dungeons & Dragons is still a game that is ultimately all about making the numbers on your character sheet get bigger. The most popular roleplaying systems often make the actual roleplaying elements feel optional. It's not directly cooked into the system.
That's why the indie RPG scene is so exciting right now. Smaller games from smaller publishers that value interaction, improvisation, and group storytelling over hit points and dice rolls are becoming more and more common, with their more inspired mechanics sneaking into larger releases. RPGs that are built to tell satisfying stories and create emotional experiences are stepping into the spotlight, providing experiences that are rich and powerful and yes, accessible.
And that brings me to John Harper's Blades in the Dark, a fantasy RPG that manages that feels quietly revolutionary in how it ties its mechanics to story and character. Set in an industrial fantasy world plagued by the supernatural (although easily hackable to take place in the setting of your own devising), the game doesn't even feature traditional fantasy adventure RPG elements like hit points. That's because your character doesn't die or fall unconscious just because the dice say so – if something unfortunate befalls your character, it's because something really interesting occurred to make it happen.
While no single mechanic in Blades in the Dark is complicated on its own, the number of rules do weave together to form a system that could still be a little daunting to newbies. But the beauty of this game is that you don't have to know the whole system to dive right in. The game's manual, written in clear, concise language, promises the reader that it's okay to screw up and that your first few games will be learning games. It'll make sense once you try it, the manual promises. It's a comforting hand on the shoulder that other RPGs should borrow. Blades in the Dark wants you jump right in and learn the ropes as you have fun.
What you'll find is a game that casts the players as crooks and scoundrels, desperate men and women living desperate lives. The game master is encouraged to meet the players halfway, to incorporate their improvisations as they take risky decisions. The system allows for frequent successes, but often at a price. Blades in the Dark is built to simulate the rising tensions of a great heist or crime story – wrong decisions pile up and the team is forced to navigate an increasingly complicated landscape full of fragile alliances with other crooks and law enforcement cooked up by the game master. On paper, it's sublime, dramatic in a way that most RPGs can only dream of.
Of course, I've yet to get the game to the table. But I have a good feeling about this one. As I dig deeper and deeper into the manual, I get more and more excited. I can't wait to assemble my players force them through a maze of intrigue, violence, and poor decisions, where the action is driven by them and not by a chart.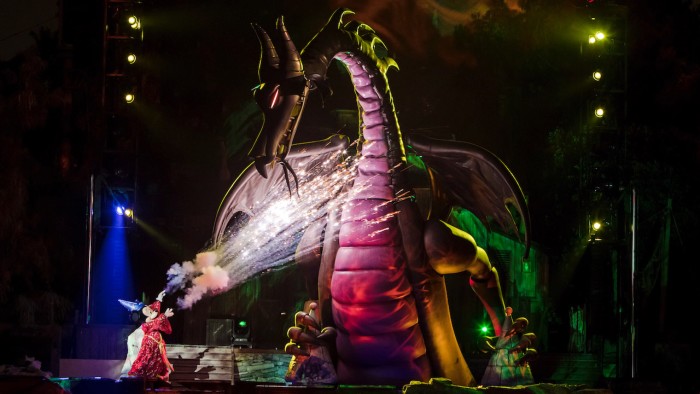 Peter Sciretta Saw Disneyland's New Version of Fantasmic
At D23 Expo in Anaheim, California this past weekend, Disney surprised fans at their Parks and Resorts presentation with fast pass tickets to a preview show of the new Fantasmic. The Disneyland water show has been missing in action since construction started on Star Wars Land, which caused the Rivers of America to be drained and rerouted. Disney Imagineering took the downtime as an opportunity to revamp some of the effects and add two new show sequences.
I was in attendance at this early preview and can tell you that Fantasmic is back and still incredibly impressive. The revamped effects make the show look better than ever, with new digital projectors, enhanced mist screens, and improved fountain lights.
As for the two new show scenes, they have added the characters of Aladdin and Jasmine floating on a magic carpet on the stage set, which looks truly magical even if the segment feels short. The other new sequence replaces the Peter Pan segment, which is instead transformed into the ghostly Sailing Ship Columbia featuring Captain Jack Sparrow from Disney's Pirates of the Caribbean movies. The stunt choreography of this sequence was particularly amazing, although seeing the live-action Pirates scenes on the mist screens felt jarring next to the show's usual all-animated collection.
The Lion King and Rapunzel were also added to the mix. But for the most part the show remains the same, and so if you loved the original, you should enjoy this new revamp.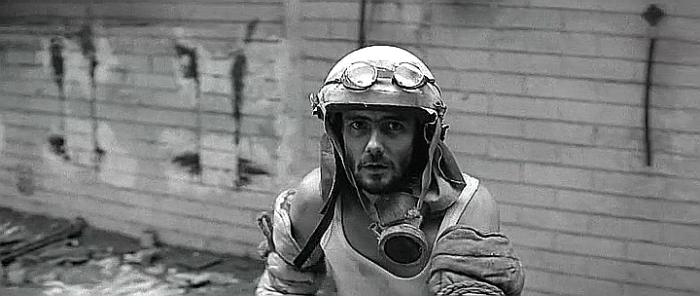 Jack Giroux Enjoyed a Luc Besson Double Feature at the Egyptian Theater
No major news flash: The Egyptian is a great place to see a movie. Last week I went there to see a double-feature of Luc Besson's first two films, his directorial debut, Le Dernier Combat, and Subway. His first movie is a black-in-white post-apocalyptic tale in which fish rain from the sky and his follow-up is an ultra-cool romantic thriller set in a subway station. Both were 35mm prints. Right now, The Egyptian is doing a series for Besson called "The Thousand Planets of Luc Besson." I really enjoyed the experience of watching these two Besson movies for the first time in a theater.
There's plenty of theaters in Los Angeles showing double-bills, classics, and all sorts of movies. Every week, it seems there's the opportunity to discover an old title or catch a movie you've meant to get to in a theater. I've been fortunate enough to watch a number of films I've wanted to see for the first time with a crowd, thanks to places like The Egyptian. The crowd is consistently respectful and was again for the Besson double feature. Subway, in particular, looked fantastic. Besson's near-silent debut shows what an eye he has, while his sophomore effort shows his style come to life. Besson's voice was pretty clear even from the start of his career.
Ben Pearson Has Been Listening to John Mayer's The Search For Everything
I have a confession to make that will likely make me sound extremely uncool, but here goes: I'm a John Mayer fan. While I totally get it if some of you immediately wrote him off as just another pop star (some of his comments in interviews certainly haven't helped his public perception), I've been playing the guitar since I was 15 and Mayer has been one of the most talented guitarists on the planet for the past decade-plus. The one official John Mayer Trio album features some of his best guitar work, but I'm here to talk briefly about his latest solo studio album, The Search for Everything.
I largely ignored his past two albums (Born & Raised and Paradise Valley) because I'm not crazy about the folk acoustic styles of the '60s and '70s he was aping during that portion of his career, but The Search for Everything is much more of a return to the type of albums Mayer made in the mid-2000s, most notably the excellent Continuum. Search features a well-rounded mixture of styles, from the breezy "Love on the Weekend" and the soulful "Moving On and Getting Over" to the yearning "You're Gonna Live Forever in Me" and upbeat "Still Feel Like Your Man." There's only one song where he really lets loose on the guitar – the blistering solo of the otherwise-soothing "Changing" – but the whole album is brimming with genuine emotion, and as long as he keeps making music that's this high quality, I can't imagine ignoring his work again any time soon.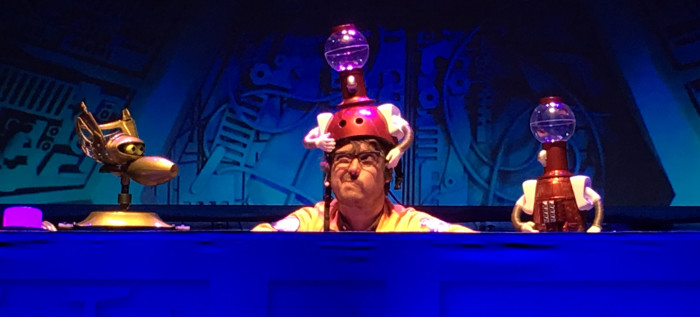 Ethan Anderton Went to the Mystery Science Theater 3000 Live Show
For those who haven't heard, Mystery Science Theater 3000 is currently touring the country with a live show to celebrate their return with a new season that is available now on Netflix. Dubbed the "Watch Out for Snakes Tour" (a name where the meaning becomes clear as the show goes on), the tour has the show's new host Jonah Ray along with his robot pal Crow T. Robot and Tom Servo performing a live episode of the series, complete with movie mockery and breaks in between.
The tour actually has two different live shows, though only select cities are lucky enough to be able to catch the second one. The first show is a live version of Eegah!, largely considered by fans to be one of the best episodes from the show's library. It was presented with new jokes, and there was even room for riffing made specific to Chicago, which is where I caught the tour. The second show featured a "Secret Surprise Film", and while I won't spoil the surprise while telling you what the movie is, I will tell you that it's a superhero movie straight from the swinging 1960s that's like a poor man's Batman, with much more provocative sexual implications.
As a longtime fan of MST3K, it was awesome to catch both of these shows live, especially with creator Joel Hodgson on hand to introduce them and even do a little Q&A to kill time before the show began. The energy that all of these performers have is off the charts, and it's actually rather impressive to have the cast riffing on a movie live rather than in a recorded episode. Obviously everything is written meticulously and planned carefully, but it's still a remarkable feat to pull off a show like this.
The Mystery Science Theater 3000 live tour still has 22 shows left on their calendar, so if there's a show in your area, make sure you get tickets right away.