Disney To Offer Totally Immersive Stays At Marvel And 'Star Wars' Hotels [D23 Expo 2017]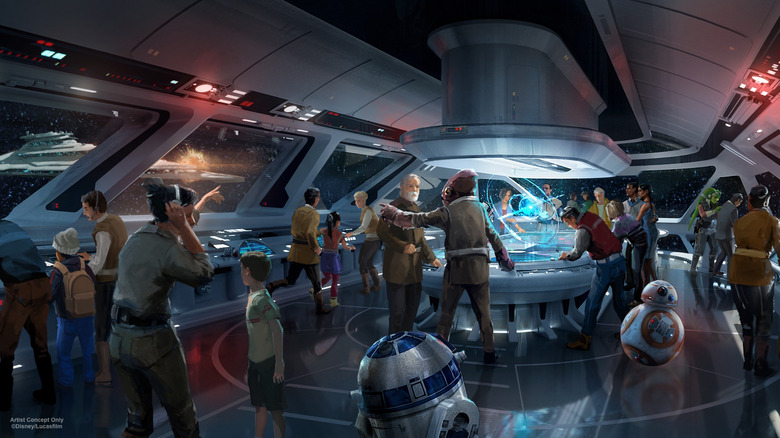 Walt Disney World and the Disneylands across the globe are not just offering you a temporary escape into a magical place – they're promising that you'll never want to leave.
The Disney resorts are tapping into their most popular franchises to give their guests fully immersive experiences in the worlds of the Marvel Cinematic Universe and Star Wars. So whether you want to traipse over to a superhero-filled New York City, or a galaxy far, far away, Disney's got your back.
Stay at the Star Wars Hotel in Florida, or Jet Over to Paris for the Marvel Hotel
At the D23 Expo in Anaheim, California, Disney Parks and Resorts Chairman Bob Chapek promised "revolutionary vacation experiences" that will immerse guests in the worlds of their favorite characters.
First, the hotel available stateside is the one in a galaxy far, far away. The Star Wars-inspired resort at Walt Disney World in Florida "combines a luxury resort with an immersion in an authentic Star Wars environment," Chapek said.
Guests can experience a multi-day adventure in space, and the planets that populate the Star Wars universe, and become an "active citizen of the galaxy" complete with "proper attire" provided to them. You will "board a starship alive with stories and adventures," Chapek said to applause.
The concept art of the Star Wars hotel includes windows that imitate outer space, characters like R2-D2 and various aliens walking about the resort, and cool beds and rooms inspired by the design of BB-8.
Over in Disneyland Paris, Disney is re-imagining their former Hotel New York into New York: The Art of Marvel. "We're going to create a hotel at Disneyland Paris that would make Tony Stark proud," Chapek said.
The hotel "will transport our guests to the inspiring world of superheroes including Iron Man, The Avengers, and Spider Man among others!" Chapek announced.
Guests will be able to explore the Marvel universe through art, films, superhero costumes and more, all in a contemporary art gallery.
A Brand New Transportation System
And what of the original Disneyland Resort over in Anaheim? Chapek said that the deal with the resort's increasingly sprawling size — now roughly the equivalent of the city of San Francisco, he said — Disney is building a whole new "point to point transportation service."The Disney Skyliner will connect the resorts in Disneyland, with each featuring Disney characters and other fun details.
"It will be a world where you never have to leave," Chapek said.