Mike Mignola Originally Wanted The 'Hellboy' Reboot To Connect To Guillermo Del Toro's Films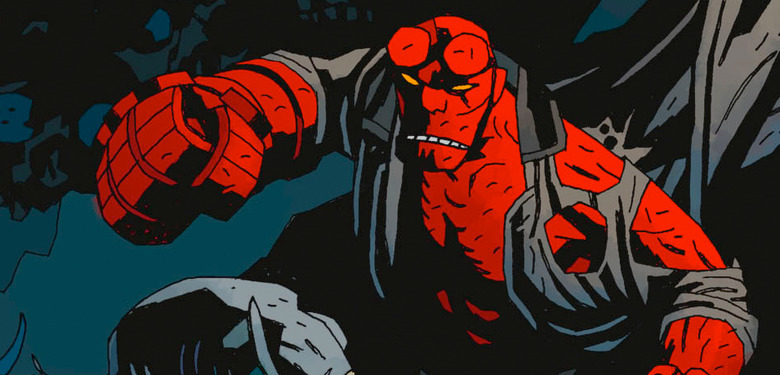 The news of Hellboy: Rise of the Blood Queen remains bittersweet. The reboot landed a helluva team with Neil Marshall (The Descent) and David Harbour (Stranger Things), but it was also a reminder of the death of Guillermo del Toro's Hellboy 3. When it became clear the filmmaker wasn't going to make his epic finale a reality, the demon's creator, Mike Mignola, decided to move on with the reboot – which was originally envisioned as remaining in the world del Toro established on the big screen.
Below, Mignola discusses the Hellboy reboot.
Mignola and screenwriter Andrew Cosby have been collaborating on the project for the last three years. Cosby has described the R-rated film as "a darker, more gruesome version of Hellboy," which tonally, sounds far, far away from del Toro's movies. While Mignola and Cosby talked about moving forward with del Toro's take on Mignola's universe, they decided to go in a different direction once Marshall was hired.
Here's what Mignola told Nerdist:
So we originally started trying to tie it to the del Toro universe and continue those movies. But once we had Neil Marshall, we thought, 'Why are we going to try and continue that universe?' Because a del Toro movie is a del Toro movie, and you don't want to try and hand a del Toro movie to someone else. Especially someone as great as Neil Marshall. So that's when it went from being this continuation to being a reboot. It's exciting to have another director. It's exciting to take another path, to take that material and give it another leaning.
The Hellboy creator added del Toro was offered the chance to produce the reboot:
I would've loved to see Guillermo do his third movie and finish that story. But over the years it became very clear that wasn't going to happen. About three years ago the producers, the screenwriter Andrew Cosby, and I all started working on this new story. Del Toro didn't want to have anything to do with it, he wasn't going to direct. He was offered to be a producer, and Ron [Perlman] wouldn't do it without Guillermo.
Del Toro kept the flame alive for a Hellboy 3 throughout the years, sometimes even sharing plot details from the epic conclusion. The sequel's demise will always be a disappointment, but a new chapter with Hellboy is better than no Hellboy. Plus, Hellboy: Rise of the Blood Queen has some major talent steering the ship. Mignola says Harbour is leaving no stone unturned when it comes to playing Hellboy, too, by always asking questions and digging deep into the character's history. Before the year ends, Harbour will be filming the reboot.