Kermit The Frog Performer Steve Whitmire Explains That He Was Suddenly Fired By Disney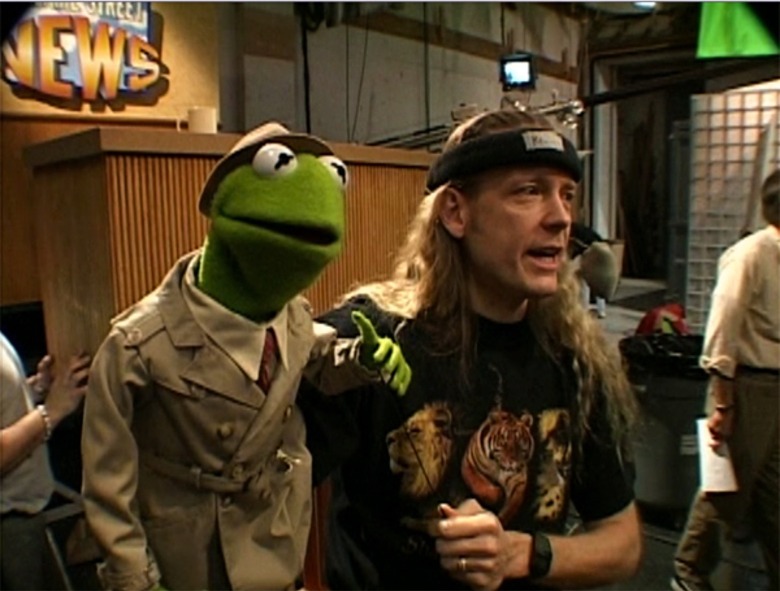 Earlier this week, we told you that Steve Whitmire, the performer who has been playing Kermit The Frog since Jim Henson's death in 1990, was leaving The Muppets and that Muppeteer Matt Vogel would be taking on the iconic role. Since the report, we've heard a lot of rumors, most of them suggesting that Whitmire was let go by Muppet Studio months ago in quick order. Now for the first time in the nine months since being let go from the prestigious gig, Whitmire is finally ready to talk about the decision. Read Steve's heartbreaking personal blog about the departure.
Steve Whitmire, wrote the following personal blog talking about his departure from Muppets Studio:
——
It's Time To Get Things Started...
Dear Friends,
In 1978 when I was asked to join The Muppet Show, the Muppets were the hottest thing on the planet. I was invited to sit at the feet of the true masters, Jim Henson, Frank Oz, Jerry Nelson, Richard Hunt, and Dave Goelz; working alongside them, absorbing different skills from each, as we, along with many talented others, contributed towards the same shared vision, the vision of one man. The result became a skill-set for myself that was sort of a compilation of the best of them all.
For me the Muppets are not just a job, or a career, or even a passion. They are a calling, an urgent, undeniable, impossible to resist way of life. This is my life's work since I was 19 years old. I feel that I am at the top of my game, and I want all of you who love the Muppets to know that I would never consider abandoning Kermit or any of the others because to do so would be to forsake the assignment entrusted to me by Jim Henson, my friend and mentor, but even more, my hero.
As I am sure you can imagine, I have experienced every possible emotion since October 2016, when I received a phone call from The Muppets Studio's executives to say they were recasting. Through a new business representative, I have offered multiple remedies to their two stated issues which had never been mentioned to me prior to that phone call. I wish that we could have sat down, looked each other in the eye, and discussed what was on their minds before they took such a drastic action.
I have remained silent the last nine months in hopes that the Disney company might reverse their course. Doing what is best for the Muppets is the lens through which all my interactions have been filtered. Given the opportunity I remain willing to do whatever is required to remedy their concerns because I feel my continued involvement with the characters is in the best interest of the Muppets.
For decades, you have been an invaluable partner in co-creating the existence of the Muppets, and I am humbled by your devotion to them. There is so much more for us to talk about so I have created this site as a place to connect and share on all things Muppet, past, present and future.
Please forgive any faux pas as I have not been active in social media previously and have a serious learning curve. I just want you all to know that I am sorry if I have disappointed any of you at any point throughout our journey, and to let everyone know that I am devastated to have failed in my duty to my hero.
—
A Disney spokeswoman said in a statement: "The Muppets Studio thanks Steve for his tremendous contributions to Kermit the Frog and The Muppets franchise. We wish him well in his future endeavors." No comment was given on the blog entry itself.
The big question a lot of us may be asking ourselves is, why would Steve Whitmire be fired by Disney suddenly after 27 years of service? Unfortunately, we don't have the answer to that question, and the fact that Whitmire has posted this blog and seems to have hope he could someday return to Muppet Studio suggests it wasn't some huge controversy like the accusations against Elmo performer Kevin Clash. Whitmire mentions that he was let go for "two stated issues which had never been mentioned to me prior to that phone call." It's impossible to guess what those issues may have been, and it's hard to say either side of this situation is right not knowing the reasons. Either way, this is really unfortunate and I hope that someday Steve finds his way back to Kermit.