Despite Promises, Rey Will Be Left Out Of 'Star Wars' Monopoly Due To 'Insufficient Interest'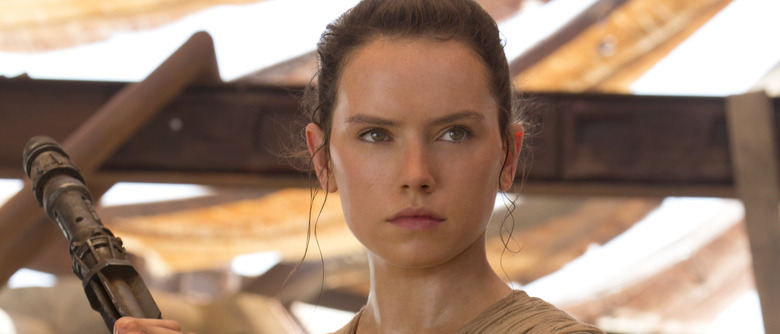 Just when you thought fan outcry and demands for toys and games of popular female characters had been heard, Hasbro has gone and ignored them yet again.
A young fan of Star Wars: The Force Awakens' Rey had written a letter to Hasbro a year ago after she couldn't find her favorite character in the Star Wars Monopoly game, and the toy company went into crisis control. First Hasbro sheepishly claimed that it left out Rey due to spoilers, then promised the fan that it would release an updated version of the game with a Rey token. But Hasbro has walked back on that promise to release a version with Rey, citing "insufficient interest."
According to the Chicago Tribune, 18 months after Hasbro told a young girl that it would release a new version with a Rey token in Star Wars Monopoly, the company reneged on that promise. Hasbro told the Associated Press that it made the piece but didn't release the new version in the U.S. "due to insufficient interest."
Rey is inarguably the main character of Star Wars: The Force Awakens and the face of the new generation of Star Wars films. So why is she not in the Star Wars Monopoly game?
The 2015 edition of the game featured four character tokens of Finn, Kylo Ren, Luke Skywalker, and Darth Vader — all male characters who appeared in both the original Star Wars trilogy as well as The Force Awakens. This was strange considering Rey's main role in The Force Awakens, and her prominent placement on all the posters and marketing for the film — which kind of negates Hasbro's weak excuse that they kept her out of the game, and other toy lines, for spoiler reasons.
Her absence was so notable that a hashtag #WheresRey spawned from it, along with a social media movement demanding more popular female characters from sci-fi or superhero movies in the games and toys that accompanied their release. Black Widow's absence from toys depicting scenes revolving around her also became a rallying cry, and toy companies were suddenly inundated with (rightful) accusations of sexism.
Hasbro, who is Disney's main licensing partner and releases games and toy lines in conjunction with their Star Wars and Marvel releases, seemed to finally acquiesce after 8-year-old Annie Rose wrote a letter about Rey's absence from Monopoly, saying, "Girls matter!"
8 yr old asks, How could you leave out Rey in SW Monopoly? @LetToysBeToys @HasbroNews @PigtailPals #WheresRey pic.twitter.com/EnOs56PQE5

— Carrie Goldman (@CarrieMGoldman) January 4, 2016
"Without her THERE IS NO FORCE AWAKENS! It awakens in her!" Rose wrote. "And without her, the bad guys would have won! Besides, boys and girls need to see that women can be as strong as men!"
After receiving the letter last year, Hasbro spokeswoman Julie Duffy said in a statement at the time:
"We love the passion fans have for Rey, and are happy to announce that we will be making a running change to include her in the Monopoly: Star Wars game available later this year."
Obviously, that's not happening, though Duffy this year said that fans who bought the all-male game "can request a Rey from customer service." Joy.
"Insufficient interest" seems like a vague way to excuse Hasbro's sexism, though to be fair, the company claims it's interest from retailers, not consumers — so I guess we can blame the retailers' sexism, or disinterest in Monopoly. While this latest chapter in the #WheresRey saga is disappointing, it's almost not a surprise considering toy companies' historically obtuse approach to marketing female characters. For the most part, toy marketers still follow frustratingly archaic gender guidelines, restricting action figures to boys and dolls to girls. Hopefully, as more female characters take the lead in blockbusters, the companies will finally change their strategies.
Or maybe they'll realize that the insufficient interest is not in Rey, but in Monopoly — but we'll never know.