Quentin Tarantino's Next Film Is About The Manson Family Murders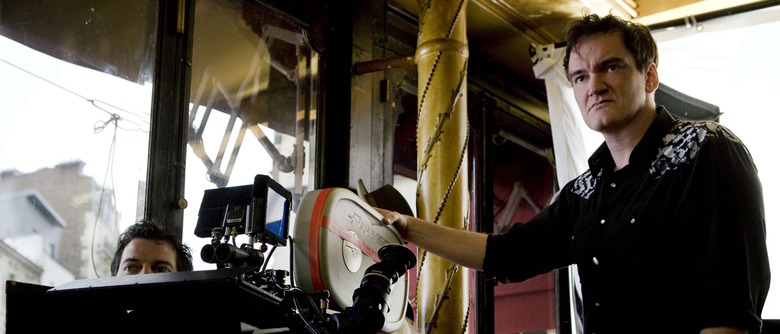 Quentin Tarantino has two movies left before he completes his filmography. One of those final films is about the Manson Family murders. The project's title is unknown at the moment, but Harvey and Bob Weinstein are producing.
Below, learn more about what may be the next Quentin Tarantino movie.
According to The Hollywood Reporter, Tarantino is already talking to "A-list" actors about his "unique take on the Manson Family murders." WME is in the early process of putting together a package to shop around to studios. Two of the actors who've already been approached: Brad Pitt and Jennifer Lawrence. Pitt and Tarantino worked together on Inglorious Basterds, while Lawrence was reportedly in the running to play Daisy Domergue in The Hateful Eight. Any actor with ties to the project, though, is in the very early stages. Tarantino is currently putting the finishing touches on his original script. Shooting on the period piece could begin next year, with a summer start date being possible.
The project seems very different from Tarantino's past work, starting with the fact it's based on a horrific true story, not just a horrific period in time. Little is known about the script, but one of its stories does follow Sharon Tate, who was murdered in 1969 by Manson and his followers, in Benedict Canyon. According to one of The Hollywood Reporter's sources, Lawrence isn't going to play the actress and director Roman Polanski's wife, who was pregnant at the time of her death. Tate and four others were brutally murdered on the night of August 8, 1969. She shared the home with Polanski, who was in London at the time, and Manson believed the home belonged to a record producer who rejected him. In 1971, Manson and some of his followers were sentenced to life in prison for their murders.
After Labor Day, studios will have the opportunity to acquire the package. Similar to Inglorious Basterds, it'll be a joint effort between The Weinstein Company and a studio. Universal was their financing and distribution partner on Tarantino's World War II film. In that instance, he was rewriting history, but how faithful he'll stay to the story of Sharon Tate and the Manson Family Murders is unclear. Hopefully, we'll soon have a couple more details on what may be the ninth film from Quentin Tarantino, which sounds like a surprising departure from his past work. The project would bring the filmmaker back to Los Angeles, too, where he hasn't set a film since his Jackie Brown adaptation. Tarantino depicting this time period in L.A. is probably going to be something else, something next-level, and I already can't wait to see it.