'Mary Poppins Returns' Motion Poster: Emily Blunt Is Going To Take You On An Adventure...in A Year And A Half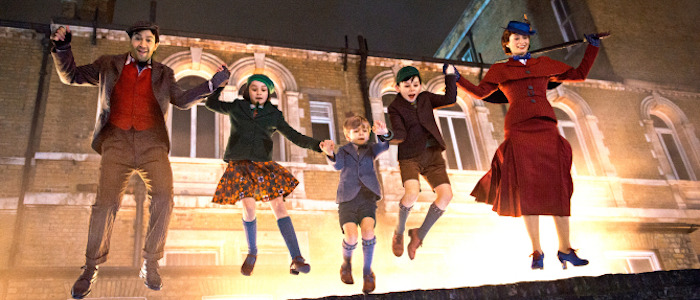 Emily Blunt – she's the new Mary Poppins, ya'll. If anyone could capture that character's sense of joy and kindness, it's Blunt. Director Rob Marshall and Disney hired a remarkable actress to play a remarkable character. During D23, footage was screened for an audience of Disney fanatics and the crowd liked what they saw of the film, especially Blunt. Our editor-in-chief Peter Sciretta said the footage was "lovely, delightful, full of fun, wonder, and magic."
Below, you can see Blunt as Poppins in the Marry Poppins Returns motion poster.
At D23, the filmmakers said they're trying to capture the tone and style of the original film. The teaser featured a montage of Mary Poppins transforming the Banks home, a song and dance on the ceiling, and a shot of Mary Poppins and Jack (Lin-Manuel Miranda) riding in a car with an animated background and a bird passing by.
The sequel takes place 25 years after Robert Stevenson's film, based on P.L. Travers' books. Poppins returns to help brighten the lives of others once again. After the death of Michael Banks' (Ben Whishaw) wife, he and his three children are shattered. When the home at Number 17 Cherry Tree Lane is about to go into foreclosure during a slump in London's economy, Poppins arrives to lift up Michael, his children, and Jane's spirits. The musical co-stars Meryl Streep, Angela Lansbury, and Colin Firth as the heartless bank manager.
Emily Mortimer is playing Jane Banks, who's working as a union organizer. Michael, who's an artist and baker, has three children joining Mary Poppins for an adventure: Annabel (Pixie Davies), Georgie (Joel Dawson), and John (Nathanael Saleh).
Emily Blunt is Mary Poppins in the upcoming sequel, #MaryPoppinsReturns. The brand new film opens in theatres December 2018. #D23Expo pic.twitter.com/egxozrpRbr

— Walt Disney Studios (@DisneyStudios) July 15, 2017
Dick Van Dyke appears in the sequel playing the bank chairman, Mr. Dawes. The footage at D23 even showed him doing a little dancing. Julie Andrews, on the other hand, isn't making an appearance. Marshall said Andrews wanted Blunt's Marry Poppins to be the Marry Poppins in the new version: "Julie was incredibly gracious, and we talked about it in a very general way but she made it clear right up front. She said, 'This is Emily's show, and I really want it to be Emily's show. I don't want it to be, "Oh, here comes that Mary Poppins." I don't want that. I really want her to take this and run with it, because she will be brilliant.'" When Blunt was hired for the role, she only rewatched the first 15 minutes of the original because she didn't want to try to copy Andrews' performance.
Marshall and Blunt previously worked together on Into the Woods, which was more enjoyable than Marshall's previous musical, Nine. With the exception of Chicago, his musicals are oddly rigid at times, but with the right song, performer, and staging, he can create a dazzling sequence. Hopefully, Marshall brings a liveliness Marry Poppins Returns.
Mary Poppins Returns opens in theaters December 25, 2018.