The Water Cooler: A 'Ghostbusters' Crossover Comic, 'Shovel Knight' On The Nintendo Switch, And A Classic Novel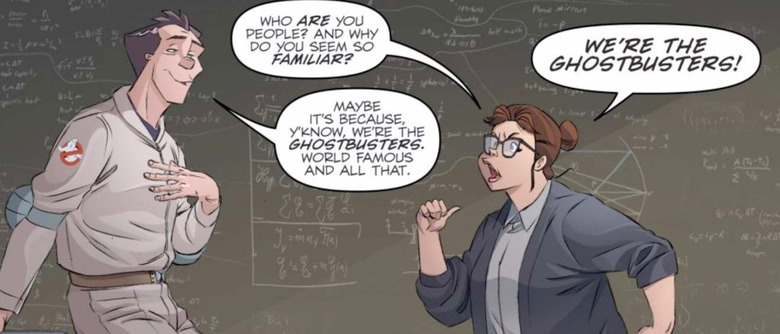 Welcome to The Water Cooler, a weekly feature where the /Film staff is free to go off-topic and talk about everything except the movies and TV shows they normally write about. In this edition: a Ghostbusters comic bridges the old movies and the new one, what it's like to be an annual pass holder at Universal Studios, playing the throwback video game Shovel Knight on the Nintendo Switch, tackling of Mice and Men for the first time, and more!
Ethan Anderton is Reading the Ghostbusters 101 Comic Book Series
Since the reboot of Ghostbusters from Paul Feig wasn't quite the hit that Sony Pictures and the newly founded Ghost Corps production banner were hoping for, it doesn't look like we're going to get any more movies playing in the new universe with the lady paranormal investigators played by Melissa McCarthy, Kristen Wiig, Kate McKinnon and Leslie Jones. However, that doesn't mean you can't see how the adventures would have continued, and that includes a crossover between the new Ghostbusters and the classic team played by Bill Murray, Dan Aykroyd, Harold Ramis and Ernie Hudson.
IDW Publishing has a comic book series that we've highlighted before called Ghostbsuters 101, and it features a storyline that connects the universes of the original Ghostbusters with the new Ghostbusters. Honestly, it's exactly what I would have wanted from a sequel that opted to bridge the gap between the original franchise and the reboot rather than going out of the way to make them separate entities with no significant narrative connective tissue.
Interestingly enough, Ghostbusters 101 links the old and new Ghostbusters by way of Gozer the Gozerian. The series is only four issues deep right now, with two more issues to be released at the end of July and August, but I've loved how the comic stays true to the spirit of both Ghostbusters teams. There are fantastic references and easter eggs for fans of both franchises, not to mention the previous comic book adventures of the classic Ghostbusters team (including their crossover with the Teenage Mutant Ninja Turtles), and there's even a cameo from The Real Ghostbusters at one point.
After this six-issue series is concluded, I'm probably going to write something about this little storyline and how it's the combination Ghostbusters sequel and reboot that the fans deserved to see on the big screen.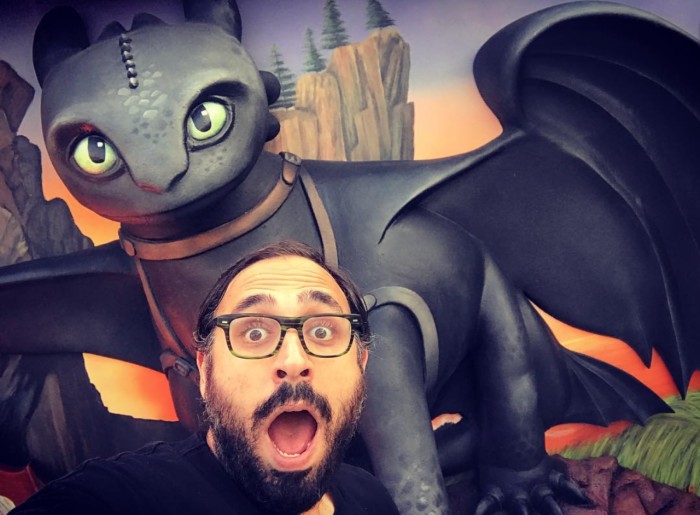 Peter Sciretta Became a Universal Studios Hollywood Annual Pass Holder
I've been a Disneyland annual pass holder for as long as I've lived in Los Angeles. For whatever reason, I've never made the same commitment to Universal Studios Hollywood, even though it's much much closer than Anaheim. Yeah, I am more of a Disney fanatic, but I'm not a Universal hater. Every year I cover Universal's Halloween Horror Nights (which is a completely separate event ticket) for the site and have gotten my fix.
So what changed? I got a Costco membership and learned they were selling the Gold Annual Pass for only $199, which includes 337 available days, including 83 weekend days. Universal has also introduced FlexPay, which allows pass holders to pay off their pass over 12 months instead of the one upfront payment, which is how I've been paying for my Disney pass for years now. And honestly, the cost of this pass is almost 1/4th the cost of what I'm paying at Disney. The price was right, and so I'm now a pass holder.
In two weeks, I've already gone to the park twice. It's difficult to compare Universal's AP offerings to Disneyland Resort at this point, but I have already been pleasantly surprised. For instance, most of the dates that my pass is blocked out is the busy summer weeks, but Universal extended an invite to Annual Passholders allowing them to visit the park on one of their blocked out July dates. This is something I've never seen Disneyland offer.
In addition to admission, the pass also includes free parking before 5:00 P.M. (a weird restriction because I guess they want people to pay for parking if they want to see a movie or eat dinner at Citywalk) as well as 15% off food and merchandise in the park, which is helpful. Strangely, Universal only offers a paper ticket for their Annual Pass, unlike the plastic card offered by most other theme parks. A paper ticket can easily get damaged or lost, so I found this cost cutting effort to be extremely weird.
Universal recently acquired Dreamworks Animation and they've begun building a Dreamworks theater attraction which will house 4D experiences for their popular franchises. Right now, guests can get their photos with favorite characters from Madagascar, Shrek, Trolls, Kung-Fu Panda and How to Train Your Dragon. For whatever reason, they don't have a costumed character design for Toothless – it's a big statue photo op, which is disappointing considering the incredible walking costume designs Universal made for the Transformers characters. You can see the photo of me with the Toothless statue above. Someday, I hope they'll allow us to meet a real moving breathing dragon!
Jacob Hall Played (and Beat) Shovel Knight
My first video game console was the Nintendo 64 and my first serious video game obsession was GoldenEye, so the golden age of the 8 and 16-bit platformer passed me by. I have no nostalgic love for the early Mario games (although I like them) and have no room in my soul for the Mega Man games (although I admire them). So it seems like Shovel Knight, a video game meant to echo the look and feel of those early electronic gaming classics, wouldn't be up my alley. While the game is a few years old, it's currently available on the games-starved Nintendo Switch and I needed something new to play. So I gave it a shot.
In a nutshell: I was wrong. While Shovel Knight will certainly appeal to gamers hoping for a blast of nostalgia, Yacht Club Games has created something that transcends basic retro appeal. It may look like an old game, but the art design and is colorful and vibrant and full of personality. It may sound like an old game, but the soundtrack is endlessly catchy and gives every stage a veneer of jovial menace. And while the barebones story is in line with old school platformers (a shovel-wielding knight sets off to rescue a fantasy kingdom from an evil enchantress), it's a surprisingly soulful tale that quietly tugs at your heartstrings, utilizing dream sequences and simple but elegant character writing to truly invest you in the main character's plight. The final moments are surprisingly moving – completing the game doesn't just offer a sense of achievement, but a sense of proper closure.
Beating the game unlocked a New Game Plus mode, which I tinkered with for a few minutes before dying quickly and turning my Switch off. I'm not a talented enough gamer to take on the more challenging second run, where you keep all of your equipment and upgrades but facer tougher opponents. But that's okay. I'll leave that mode to the gamers who specialize in this kind of game. I've had my fill of Shovel Knight and it was a fine meal indeed.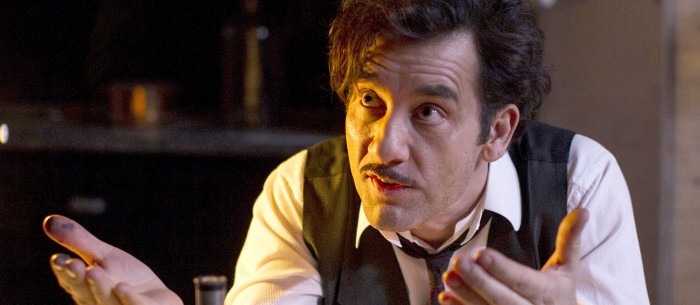 Jack Giroux is Watching Season 1 of The Knick
I don't have Cinemax, and, unfortunately, it took me too long to get around to picking up The Knick on Blu-Ray. It didn't take long for me to get hooked by Jack Amiel, Michael Begler, and Steven Soderbergh's drama, though, which is set in 1900 and follows a rich ensemble of deeply flawed characters. Dr. John Thackery (Clive Owen) is a great, troubled and brilliant protagonist, with both hatred and kindness in him. He's surprising, exciting to watch and always revealing nuances, just like the most of the main characters on The Knick. Each episode leaves me wanting to get to know more about Dr. Edwards (André Holland), Sister Harriet (Cara Seymour), Herman Barrow (Jeremy Bobb), Lucy Elkins (Eve Hewson), and others. So many characters on the show are riveting to watch.
There's some great suspense in the series, too, since lives are almost always on the line and the hospital and world itself are sometimes akin to a gangster series. Episodes of The Knick can be set prominently at the hospital, but the world feels big and often dangerous. The Knick also features one of the best fight scenes I've seen in recent memory. It's a fistfight with only a few actual punches shown connecting. There's a brutality to it, but not because blood is spilled or bones are broken. Soderbergh even makes the fights on this series feel as intimate and subjective as possible. The Knick is 20 hours worth of the filmmaker's work I wish I watched sooner.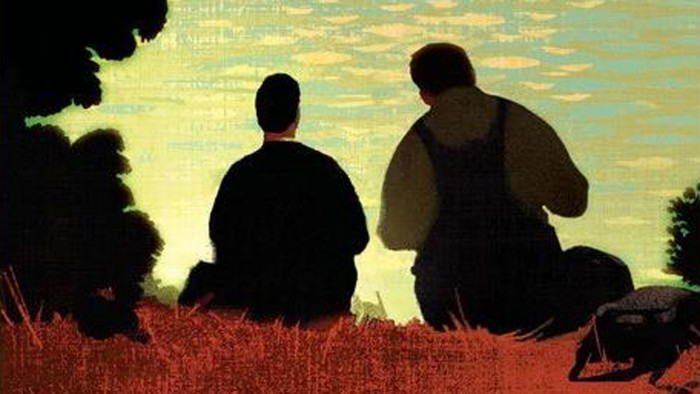 Ben Pearson Read John Steinbeck's Of Mice and Men
Not long ago, my wife and I went to The Last Bookstore in downtown Los Angeles (a super cool place you should check out if you're ever in town) and bought a stack of classic novels we'd never read. We've since been steadily making our way through them, and one of the books I recently finished is John Steinbeck's Of Mice and Men – which, yes, is technically just a novella, but gimme a break, will ya?
I won't recap the plot points in case, like me, you've somehow managed to avoid it for all these years, but I'll just say that I wasn't expecting it to be such a profoundly sad story. The whole thing is only 107 pages, so it shouldn't take you long to read it if you're interested. But if you want to spoil yourselves with the quick version, this clip from an episode in the sixth season of Lost should do the trick and summarize it for you.
Hoai-Tran Bui Has Been Listening to Utada Hikaru's Newest Releases
I don't think I've ever loved an artist as much as I have loved Utada Hikaru. You probably know her as the person who sang ",Simple and Clean" or "Sanctuary" for the Kingdom Hearts video games, and that's how I did at first too. In that way, she has been intrinsically tied to my childhood — but she was also a huge part of my life growing up. More than just looking forward to her next Kingdom Hearts theme song, I fell in love with her entire discography – and followed her career obsessively from then on. (I could also summarize her entire Wikipedia biography, but that would probably be too much.) To say she is my favorite artist would be an understatement.
So I was devastated when she decided to take a hiatus from her career and stop making music in 2012. Her reasons made sense. She had been in the music business since she was 15 years old, with a career stateside (she was born in New York) and in Japan as arguably biggest J-pop star of all time. But then — a miracle. She came back last year with her first album in 8 years, Fantôme. Sadly, it was through a sort of grieving process — her mother had passed away from suicide a few years ago and the album was less a triumphant comeback than it was a way of grieving the loss of her mother, while learning the ropes of becoming one herself — as she recently got married and gave birth. But through loss comes great music: Fantôme was one of her best, most vulnerable achievements yet, and I still listen to on repeat it today. The song that perhaps best exemplifies the haunting album is perhaps "Hanataba wo Kimini," which roughly translates to "A Bouquet of Flowers For You", a melancholy, wispy song backed by simple strings and percussion and featuring Utada crooning, "I'll give you a bouquet/The things I want to say, what I want to say/ There are surely a mountain of them/So many only God knows them/I'll give you a tear-colored bouquet today." What sounds at first like a hopeful love song is in fact a mourning song (the bouquet here can either be the one given to a loved one, or one placed at funerals). You should also listen to "Boukyaku" ("Oblivion") featuring KOHH, who appeared on Frank Ocean's last album Blonde, because it is absolutely heart-wrenching and dark R&B track like nothing I've ever heard Utada do before.
Fantôme is a tough but cathartic listen, though not a sign that Utada was coming back permanently to the music industry. That's why it's so encouraging that she so soon released a new single this week, "Oozora de Dakishimete," a springy and childlike jingle for a Suntory commercial. It's not really that remarkable, but it still has that trademark brand of Utada wistfulness, and is a pleasant return for her as she gears up for yet another single release later this month, Forevermore. I'm getting inundated with so much Utada Hikaru content right now and I couldn't be happier — except perhaps if she did go on to do the Kingdom Hearts 3 theme next.
Christopher Stipp is Watching First We Feast on YouTube
I abhor and cringe at most televised interviews with celebrities who have a project to hock to the general public. I don't fault the celebrities themselves – having to promote something is just part of the job. Honestly, as someone who's been on the other end of the interview table dozens upon dozens of times, I completely fault the interviewer for not being more engaging. That's why I am enamored with Sean Evan's interviews on YouTube.
I wish I could say I was there at the beginning when this bizarre but brilliant concept of interviewing all manner of celebs while eating progressively spicy chicken wings first came to be. Evans is an astute interviewer who himself eschews the normal interview dance and has reinvigorated the medium by adding a wildcard into the process of finding out answers to questions you wouldn't normally get on a talk show with the added bonus of seeing the interviewee slowly grow increasingly uncomfortable, a lot of times ornery, in this process. Every episode has been a gift in some way and has broadened my own appreciation for not only chicken wings, but for the other content that Evans puts on the channel. Whether that's a deconstruction of what makes a good bodega (apparently, you at least need a cat?) or why the Jamaican beef patty is a NYC staple, Evans is experimenting with different kinds of content. In a landscape littered with hyper happy YouTubers that are watched by 12-year-olds everywhere, First We Feast is a welcome and delicious alternative.