'It' Star Bill Skarsgård Joins Hulu's Stephen King Multiverse Series 'Castle Rock'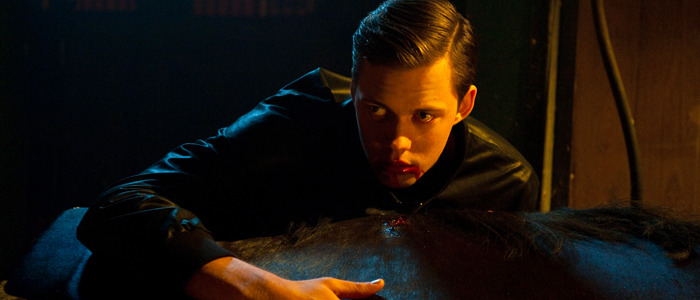 Hulu's upcoming TV show Castle Rock, a psychological horror series set in the Stephen King multiverse, has been slowly filling its lead roles as the show heads toward production. They've managed to snag some pretty awesome cast members so far – any show that prominently features Melanie Lynskey, Andre Holland, and Jane Levy is worth getting excited about – but now Carrie star Sissy Spacek won't be the only actor who's actually appeared in a movie based on a King novel: Bill Skarsgård, who is playing the terrifying-looking Pennywise the Clown in the upcoming adaptation of It, will be heading to Castle Rock as well. But who will he play?
Variety has the news of Skarsgård's involvement, and though they mention he's a series regular, the only description of his character is that he'll be "a young man with an unusual legal problem." Sounds like he'll be coming in contact with Andre Holland's Henry Deaver, a defense attorney in the titular Maine town. But is the deliberate withholding of Skarsgård's character's name hinting that he could actually be reprising his role as Pennywise in the new series, albeit with a bit of a twist? See, in King's It novel, the evil entity known as Pennywise the Dancing Clown also operates under the name Robert "Bob" Gray, so I wouldn't be surprised if it's ultimately revealed that that's Skarsgård's character's name here, technically allowing the actor to play the same role across two different mediums.
Here's the official synopsis for the show:
A psychological-horror series set in the Stephen King multiverse, Castle Rock combines the mythological scale and intimate character storytelling of King's best-loved works, weaving an epic saga of darkness and light, played out on a few square miles of Maine woodland. The fictional Maine town of Castle Rock has figured prominently in King's literary career: Cujo, The Dark Half, IT and Needful Things, as well as novella The Body and numerous short stories such as Rita Hayworth and The Shawshank Redemption are either set there or contain references to Castle Rock. Castle Rock is an original suspense/thriller — a first-of-its-kind reimagining that explores the themes and worlds uniting the entire King canon, while brushing up against some of his most iconic and beloved stories.
That sounds incredibly ambitious, and I can't wait to see if showrunners Sam Shaw and Dustin Thomason (Manhattan), who are writing and directing all ten episodes in the first season, can pull it off. King, J.J. Abrams, Ben Stephenson, and Liz Glotzer are executive producing, but there's still no premiere date set yet.