Dunkirk Early Buzz: What Do The Critics Think About Christopher Nolan's War Movie?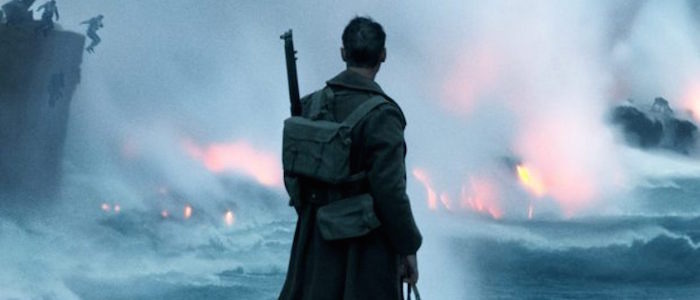 The press junket for Christopher Nolan's new film Dunkirk happened over the weekend, and the social media reactions have begun to be revealed on Twitter. What did the first critics to see Nolan's war movie think? Hit the jump to read the first Dunkirk reviews/reactions.
The First Dunkirk Reviews On Social Media
Seems like quite a few of the junket press are praising the suspense and the 70mm IMAX presentation (as we can only expect from a Christopher Nolan film), while others are saying the film looks beautiful and is unlike any other film from the director. Here are the first Dunkirk reactions from twitter:
Frosty at Collider: Dunkirk is edge of your seat filmmaking that's fully realized in @IMAX. Can honestly say I've never seen anything like it. See this in IMAX! A lot of people were wondering about @harry_styles & unknown cast. They're all great but Dunkirk is not about any one solider. Also 'Dunkirk' is another brilliant collaboration between Nolan & @HansZimmer. The way he mixes in a ticking clock with score is nail biting. Let me say this one more time: if you're going to see 'Dunkirk' go to an @IMAX theater. Look for IMAX 70mm. It's absolutely worth the $Anna Klassen?: DUNKIRK is fantastic. Truly thrilling from first to last second. A heartbreaking, heart-pounding, nail-biting offering. Nolan fans, rejoice. DUNKIRK relies on v little dialogue, but is entirely impactful. We all know what happened on that beach, but Nolan's take is worth visiting. Yes, DUNKIRK relies heavily on sound of an increasingly fast ticking clock to build suspense. It may be a cheap trick, but it's effective AF. And for those asking: Harry Styles does well in DUNKIRK, was pleasantly surprised.Erik Davis: #Dunkirk is chaotic, relentless, thrilling & one of the most captivating movies you will see this year. A master class in craft. What a ride. 30 seconds in, Nolan once again delivers a spectacular edge-of-your-seat opening sequence. And then it just keeps upping the tension. From direction to editing to cinematography to score, w/ #Dunkirk Christopher Nolan proves he is one of the great filmmakers of our time.Jason Guerrasio?: #Dunkirk packs a wallop but VERY different Nolan movie. Def see on IMAX. Tom Hardy has 10 lines & is amazing. Harry Styles can act people!!!Kara Warner: #DunkirkMovie is great. Beautiful, heart-pounding action sequences, a killer score, solid acting talent & handsome. A great history lesson. And my Tom Hardy bias is strong but hot damn, Mr. Nolan knows how to light our man in the best, that-is-a-goddam-hero, fashion.Eric Eisenberg: Dunkirk is thrilling, beautiful & a must in 70mm IMAX – but it's also hard to ignore that it has zero distinctive personalities/characters.Brandon Norwood: DUNKIRK is very suspenseful. My palms were sweaty almost the entire film. Not my favorite from Nolan, but still a home run.Stephen Whitty?: Can't wait to review "Dunkirk,' a mix of modern storytelling (interwoven timeframes), classic filmmaking (real Spitfire dogfights) #DunkirkAlicia Malone?: DUNKIRK: intense! 3 intercutting stories on 3 time frames. Almost a silent film, w/ incredible score. May be divisive. I LOVED. See 70mm!Kevin McCarthy: DUNKIRK is 1 of the most immersive cinematic experiences I've ever had. Around 75% of DUNKIRK was shot on IMAX film. Other scenes shot on glorious 65mm film. Zimmer's score is the leading character of the film. Mind-blowing non-linear storytelling. See 70mm IMAX film if u can.
There's a lot of praise here but I feel like some of these reactions are dancing around... something. I asked McCarthy where he would rank it in Nolan's filmography, and here is the conversation it spawned:
Not ready to rank it. non-linear storytelling didn't click w/ me until middle of 2nd act. I want to go again with that understanding. ❤️

— Kevin McCarthy (@KevinMcCarthyTV) July 10, 2017
I love the film. No question there. I can't really explain what I mean without spoiling elements. The story-telling is insanely unique. ❤️

— Kevin McCarthy (@KevinMcCarthyTV) July 10, 2017
AGREED. It's great. And in typical Nolan fashion, he doesn't spoon-feed audiences storylines, which I LOVE. You get to THINK thru this one!

— Kara Warner (@karawarner) July 10, 2017
Right. He makes u work. But in best way possible. I look forward to 2nd viewing more than I did first. And it's my most anticipated of 2017z

— Kevin McCarthy (@KevinMcCarthyTV) July 10, 2017
Looks like another brain teasing & mind numbling story is on our way 😍

— Rohan (@rohan4u25) July 10, 2017
Exactly that. I loved my 1st viewing but my 2nd was AWESOME because you go in knowing where to pay extra attn

— Kara Warner (@karawarner) July 10, 2017
The official synopsis for Dunkirk follows:
When 400,000 men couldn't get home... home came for them. From filmmaker Christopher Nolan ("Interstellar," "Inception," "The Dark Knight" Trilogy) comes the epic action thriller "Dunkirk." Nolan directed "Dunkirk" from his own original screenplay, utilizing a mixture of IMAX® and 65mm film to bring the story to the screen. "Dunkirk" opens as hundreds of thousands of British and Allied troops are surrounded by enemy forces. Trapped on the beach with their backs to the sea they face an impossible situation as the enemy closes in. The film's ensemble cast includes Fionn Whitehead, Tom Glynn-Carney, Jack Lowden, Harry Styles, Aneurin Barnard, James D'Arcy and Barry Keoghan, with Kenneth Branagh ("My Week with Marilyn," "Hamlet," "Henry V"), Cillian Murphy ("Inception," "The Dark Knight" Trilogy), Mark Rylance ("Bridge of Spies," "Wolf Hall") and Tom Hardy ("The Revenant," "Mad Max: Fury Road," "Inception").
Dunkirk hits theaters on July 20, 2017.