A 'Spider-Man: Homecoming' Classmate Will Appear In 'Avengers: Infinity War'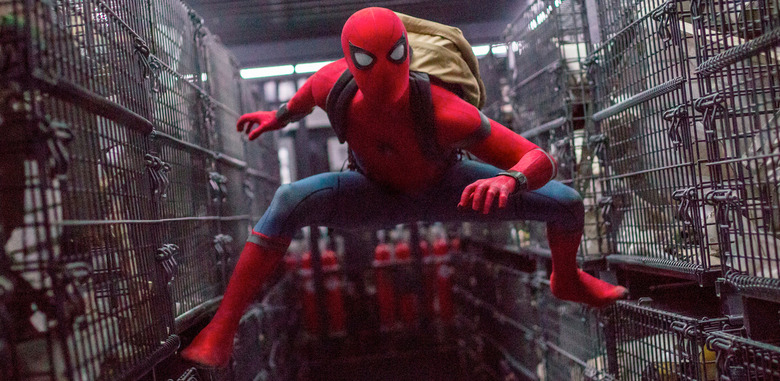 School may be out for Peter Parker in Avengers: Infinity War, but that doesn't mean it's HAGS for all of his Spider-Man: Homecoming classmates.
One of Spider-Man's classmates from Spider-Man: Homecoming has been confirmed to appear in the third Avengers movie. No, it's not Peter's bestie and tech geek, Ned. But this classmate's appearance could hint at an appearance at a few of Peter's best buds.
Isabelle Amara, who briefly played Peter Parker's classmate Sally Avril in Spider-Man: Homecoming, confirmed to BlackFilm.com that she will also make an appearance in Avengers: Infinity War, the third Avengers film and the 19th movie in the Marvel Cinematic Universe. It's also the last MCU movie before the Spider-Man: Homecoming sequel hits theaters in July 2019, which may explain why Spidey friends are popping up in epic superhero extravaganzas.
Amara told Blackfilm:
"Yes. I'm in Spider-Man: Homecoming & Avengers: Infinity War. They are filming both Infinity Wars back to back but I'm only in the first one."
Sally was a pretty minor character in Spider-Man: Homecoming, not even getting the (already brief) screen time that Zendaya's Michelle or Laura Harrier's Liz Allen received during the film. It would be strange that Sally would get a cameo in Avengers: Infinity War — which is simultaneously the narrative climax that the MCU has been building up to since Iron Man kicked it off in 2008, as well as the impetus for Peter Parker's life-changing arc in Spider-Man: Homecoming 2.
So what could this mean? Could a lesser character's appearance in Infinity War mean that the rest of Peter Parker's buds could show up as well? With Peter there has to be Ned, who was his confidante, techie, and best bud throughout Spider-Man: Homecoming. And with that reveal at the end of Homecoming, Michelle will only become more prominent to Peter Parker's life as the Spider-Man movies go on, so it wouldn't be a surprise if she appeared as well. Or it could just be a blink-and-you'll-miss-it cameo on the part of Amara — a funny moment where Peter runs into a classmate at an inopportune, villain-battling moment.
Do you want to see more Spider-Man: Homecoming characters appear in Infinity War? Or do you think the movie will be overstuffed with characters and superheroes as it is?
Spider-Man: Homecoming is directed by Jon Watts and stars Tom Holland, Robert Downey Jr., Michael Keaton, Zendaya, Laura Harrier, Marisa Tomei, Jacob Batalon, Tony Revolori, and Jon Favreau. It is currently playing in theaters.Avengers: Infinity War hits theaters May 4, 2018.