'Fate Of The Furious' Director May Not Return, But Teases Outer Space Future For Franchise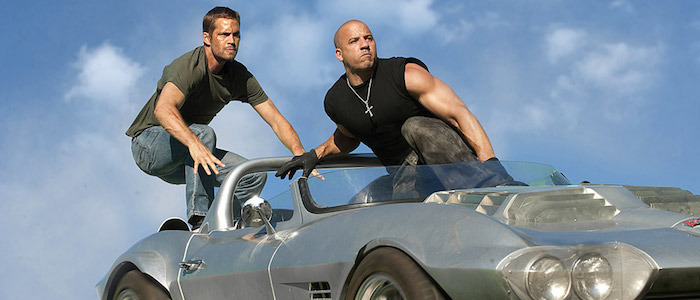 The fate of the Fast and Furious franchise is uncertain. While the once-scrappy street car racing films have turned into globe-trotting action movie phenomenons that rake in billions at the box office, the series may be facing some changes behind the scenes.
Director F. Gary Gray, who took the wheel for Fate of the Furious after Justin Lin and James Wan had ushered the series into blockbuster territory, has expressed reservations about returning to the franchise. This arrives on top of Michelle Rodriguez threatening to leave the series over the treatment of its female characters, casting a shadow over the films — even as stars Vin Diesel and Dwayne Johnson supposedly put aside their "candy ass" feud. But there's one silver lining: Gray is not opposed to finally taking Fast and Furious to outer space.
The Fast and Furious films have gone through five directors since the The Fast and the Furious first sped into theaters in 2001. But under the oversight of Vin Diesel and screenwriter Chris Morgan, who wrote every Fast and Furious film since Tokyo Drift, the series has skyrocketed in both spectacle and box office returns. This was thanks in large part to director Justin Lin, who injected a high-octane energy into the films and introduced the extended family dynamic while transforming the plots into heists and spy thrillers rather than street racing stories.
The escalating bombast of the series was maintained by James Wan, who directed Furious 7, and finally Gray with Fate of the Furious. But the series may be changing hands again, after Gray expressed uncertainty over his return — first responding to Entertainment Weekly's queries about his return with a vague "Who knows?" then telling ScreenRant that his schedule is starting to look too packed to consider another Fast film:
"Right now I'm starting a company, so that is my focus for the last couple of months. I had a chance to take a week off, a vacation, and then jump into some prior stuff that I had to take care of. And in the midst of starting a company, so that's what I've been dealing with."
Perhaps this is a chance to bring a female voice to the franchise. After Rodriguez made her argument for better treatment of female characters — and supposedly pay equity for the actresses — Diesel gave his support to her, responding on Instagram, "we must try to reach higher each time."
Hopefully whoever directs Fast and Furious 9 would be as open as Gray is to finally taking the series to new heights and bringing the franchise to outer space. Even as Gray was vague about his return to the director's chair, he told ScreenRant he wouldn't rule out a cosmic sequel to Fate of the Furious:
"Outer space? Listen, I wouldn't rule anything with this franchise. When I read submarine I'm like 'OK, anything's possible'. [Laughs] You never know. I haven't read "Dom on Mars" yet but again, you just never know."
We've joked about how the Fast and Furious series becomes so increasingly over-the-top and expansive — the series so far has hopped from Miami, Tokyo, Rio de Janeiro, Abu Dhabi, London, New York City, and Cuba — that they may as well just boldly go beyond where humankind has gone: space. I mean, if we can have a movie where the Rock throws a torpedo, we can have Vin Diesel piloting a rocket into the sun and transcending this mortal coil.