Hans Zimmer's 'Dunkirk' Score And Michael Giacchino's 'Apes' Score Release Tracks Online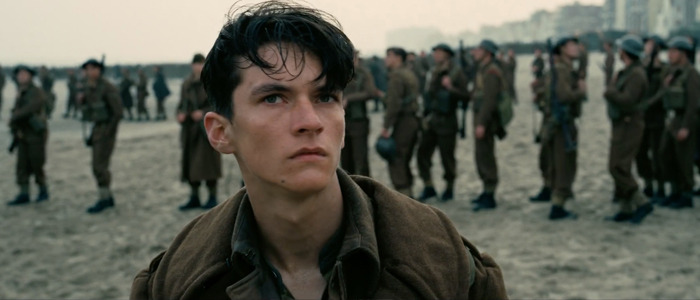 Christopher Nolan's highly-anticipated Dunkirk apparently isn't a war movie, but it shares at least one thing in common with Matt Reeves' War For the Planet of the Apes: they both have songs from their soundtracks available to listen to right now.
Let's take a listen to a track from the Dunkirk score first. This comes from Nolan's regular collaborator Hans Zimmer, and it's entitled "Supermarine."
The trailers thus far have relied on ticking clocks to build tension, and it sounds like Zimmer factored that particular sound effect into the foundation of this track. You can almost hear the pulsing second hands ticking away as the propulsive strings and percussion drive the song forward, and by the time the four minute mark rolls around, it begins to sound like a warning alarm is ringing in the background. As is often the case with Zimmer tracks, this one is punctuated by big, brassy notes that shear through the song like a shark fin through the water. The beginning of this track reminds me a lot of The Dark Knight...but then, I suppose a lot of Zimmer's music ends up sounding similar to his other work (with fun, distinct projects like Rango being occasional outliers).
Meanwhile, on the opposite end of the spectrum, you can listen to the end credits track for Michael Giacchino's score for War For the Planet of the Apes. While Zimmer's track is tense and immediate, Giacchino's is haunting and melodic, providing a nice and memorable theme that left me thinking about it for hours after I walked out of the theater.
It's sort of strange: both of these pieces are extraordinarily emblematic of the different styles of the men who composed them. I tend to favor Giacchino's approach because it's this warm, full, emotional sound that's reminiscent of the work he did on Lost (which I still consider to be the best music to ever accompany a television show), while Zimmer's style tends to be a good fit for the colder, more impersonal directorial style of Christopher Nolan.
War For the Planet of the Apes stars Andy Serkis, Woody Harrelson, Steve Zahn, Amiah Miller, Karin Konoval, Judy Greer, Sara Canning, and Terry Notary. It opens in theaters on July 14.Dunkirk stars Fionn Whitehead, Tom Glynn-Carney, Jack Lowden, Harry Styles, Aneurin Barnard, James D'Arcy and Barry Keoghan, Kenneth Branagh, Cillian Murphy, Mark Rylance, and Tom Hardy. It opens in theaters on July 21.