'Thor: Ragnarok' "Drastically" Changes The MCU, Builds Directly Into 'Avengers: Infinity War'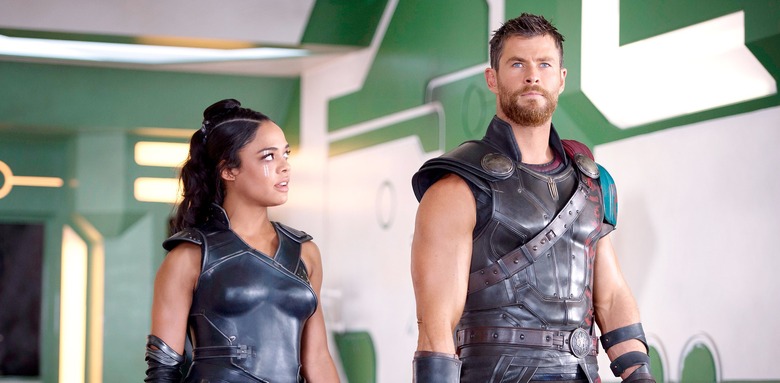 Despite the fact that it comes out in just a few months, we still don't know very much about Thor: Ragnarok beyond what we've seen in the teaser trailer: Cate Blanchett's Hela wrecks Asgard, and Thor (Chris Hemsworth), with his trusty hammer Mjolnir destroyed, is captured and sent to a gladiatorial planet where he faces off against The Incredible Hulk (Mark Ruffalo) under the watchful eye of The Grandmaster (Jeff Goldblum).
But in a new interview, Marvel Studios President and mega-producer Kevin Feige says that the film will not only "drastically" change things for the Marvel Cinematic Universe, but that Thor Ragnarok leads into Infinity War. Read on for some speculation about how the events of this film might influence the next Avengers movie.
In an interview published yesterday morning, the Toronto Sun (via GeekTyrant) spoke with Feige and asked if Thor: Ragnarok would mark the end of a Thor trilogy. Feige confirmed that's the case, and hinted that the movie will have a huge impact moving forward:
I think that we are finding ourselves as we complete Phase 3 and finish this 22-movie narrative that it's working out that way. We did three Iron Man films, three Captain America films, three Thor films. Things change drastically in Ragnarok and then build directly into Infinity War.
We knew Marvel wasn't messing around with the third Thor film as soon as they titled it Ragnarok, which refers to the Norse apocalypse. That's likely what Feige is hinting at when he talks about how things "change drastically" – if Asgard is burned to a crisp (as it appears to be in the trailer), I'd say that's a pretty big change.
How Ragnarok Might Affect Infinity War
Marvel Studios has never been too precious about directly adapting stories from the comic books on which its movies are based. Sure, there have been moments here and there that were yanked straight from the pages of the comics, but part of the reason Feige has been so successful at making these movies for the past nine years is that he knows that film is a different medium and therefore necessitates some different choices when telling a story.
One of the big changes we've been expecting to see in the movies for a long time is Blanchett's Hela serving as Thanos' love interest in the MCU. The first time we saw his character in The Avengers' credits scene, he smiled at the idea of courting death, and in the comics, Thanos became infatuated with the female embodiment of Death and strove to win her over by proving himself worthy. I'm not sure if Josh Brolin's Thanos will pop up in a secret cameo in Ragnarok, but that'd sure be a nice way to establish that story on film and bridge the gap between Ragnarok and Avengers: Infinity War.
Thor: Ragnarok hits theaters on November 3, 2017, and Avengers: Infinity War follows on May 4, 2018.