'Incredibles 2' Concept Art: Is This Our First Look At Brad Bird's Sequel?

D23 Expo is coming up next week, and as the full schedule unfolds, we are learning more about Disney's fan convention. In the new updates is a signing event with Incredibles 2 director Brad Bird and producers Nicole Paradis Grindle and John Walker. The D23 app shows the piece of exclusive artwork that the Incredibles 2 creative team is going to be signing at the event. Is this our first look at Incredibles 2 concept art?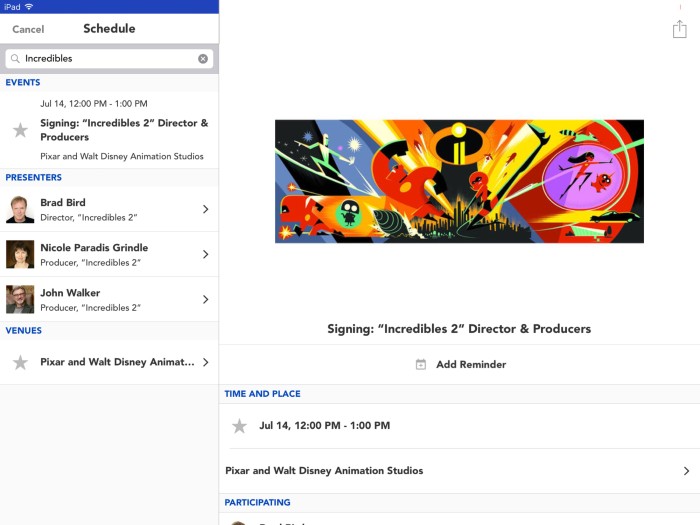 The exclusive D23 Expo concept art features the Incredibles 2 logo as revealed at the last Disney Expo. We couldn't find a higher quality image on the D23 website; the above image comes from the official D23 Expo app. Much of the art contained in the piece seems to reference the original movie. For instance, the ages of all the characters appear to be unchanged from the original film. Pixar has typically aged their sequel characters, while other animated movies and series have not let the real world time have any impact on their character designs (see The Simpsons, which Bird initially worked on).
There are also some other things in this piece that seem to reference the first movie, like Mr. Incredible's cool car and the Underminer (who it also should be mentioned was initially rumored to be the villain for this follow-up), so it's very possible that this is a repurposed concept art from the first Incredibles film. Then again, there's no sight of Syndrome, his big ball robot, or any other film-specific details. Plus, what the hell is that raccoon doing there? Could that be a new family pet?
The art style seems in line with the retro look of the first film and also the fantastic concept and marketing work Disney artist Eric Tan produced for the movie. Either way, the piece of art looks cool, and I'm sure tons of Pixar fans will be lined up for this limited signing opportunity. I know I wish that I could get my hands on one.
Right now we don't know much about the Incredibles sequel. We know it's expected to hit theaters on June 15, 2018, and that Samuel L Jackson, Holly Hunter and composer Michael Giacchino are back for the second installment. We should learn more about the Pixar sequel at D23 Expo next week.
Thanks to Jace D for pointing this out.