'Heathers' Reboot Gets A Killer New Cast Member With Selma Blair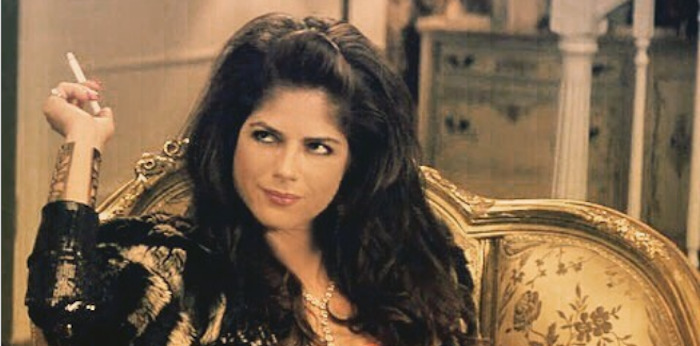 Selma Blair is tapping into her cruel intentions and joining the TV reboot of Heathers, the '80s high school-set black comedy that starred Winona Ryder and Christian Slater.
However Blair, who has played her own share of '90s teen queen bees, won't be a Heather but a Jade — the "hard-edged, gold-digging" stripper stepmother of Heather Duke. How very.
The American Crime Story star broke the news on Thursday with an Instagram picture of her in character clad in a tight leather two-piece and a fur coat as Jade, holding a cigarette and smirking upwards. Her caption referenced a line from the cult classic's wellspring of sharp, snappy dialogue: "Do I look like step Mother Theresa?"
Do I look like step Mother Theresa ? @heathers #paramountnetwork2018
A post shared by Selma Blair (@therealselmablair) on Jul 6, 2017 at 5:06pm PDT
According to TV Line, Blair will be recur on the TV series as Jade, who is married to the 82-year-old father of Heather Duke (played by Brendan Scannell). She is not the first former high school movie starlet to grace the presence of the new Heathers — the original Heather Duke herself, Shannon Doherty, will guest star in a "pivotal, unnamed" role in the Paramount Network reboot.
Heathers is described as a "pitch-black comedy anthology set in the present day" which follows Veronica Sawyer (Under the Dome's Grace Victoria Cox taking over the role originated by Ryder) as she deals with her unsteady friendship with the three vicious Heathers (Melanie Field, Scannell, and Jasmine Matthews). James Scully will play the malcontent JD, who Christian Slater imbued with a special brand of sociopathy in the original film.
I've found it funny that the original Heathers, which glibly dealt with teen suicide, murder, and school attacks, is a movie that most people I've talked to have said could not be made in the politically fraught environment today, post-Columbine, and now post-13 Reasons Why. But there has been a musical version of Heathers, and now, a TV reboot. I don't doubt that Heathers could be a successful reboot, though it will be hard to recapture the incredibly dark satire of the original film. Plus, Winona and Christian are impossible to top.
Paramount Network is the new rebranded name for Spike TV, the cable channel that the Heathers reboot moved to after initially being picked up as a half-hour comedy by TV Land. The series, developed by Keith Cox, has since shifted to an hourlong dramedy.
The Heathers reboot is slated to debut on Paramount Network in 2018.