Warner Bros Is Transforming San Diego Into 'Blade Runner 2049' At Comic-Con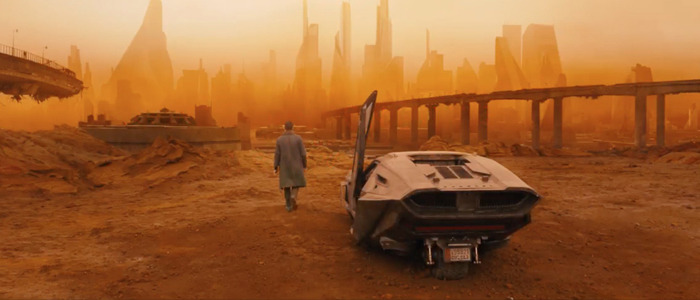 One of the best aspects of Blade Runner is the rich, immersive futuristic world inhabited by humans and replicants — a world that director Denis Villeneuve and cinematographer Roger Deakins seem to be making even more stunning in the upcoming Blade Runner 2049. And now, thousands of attendees at the San Diego Comic-Con this year can experience it for themselves.
Alcon Entertainment is offering the Blade Runner 2049 Experience at Comic-Con, allowing attendees a chance to see the vehicles and props from the film firsthand, as well as experience an Oculus VR presentation of the world of Los Angeles in 2049.
The Blade Runner 2049 Experience will be located at San Diego's "famed" Gaslamp Quarter and will be open to the public from Thursday, July 20, to Sunday, July 23.
The Blade Runner 2049 Experience will take guests through a gallery of art from the film, before they're given an Oculus VR to fully take them into the world of Blade Runner. When the VR presentation ends, guests walk through the replica of a dim, neon-lit Los Angeles street where they are "prepared to experience what our potential future holds," such as given impromptu tests to determine whether they are human or replicant.
Guests can see props, costumes, and vehicles from the film, with actors dressed in Blade Runner-style clothes milling about in the crowd. The actual Spinner vehicle from the upcoming film will also be on display. Fans also have a chance to win giveaways or other surprises.
Not overly excited to weather an overstuffed crowd of sweaty people? The Blade Runner 2049 Experience are also offering libations for fans who need some liquid courage — and who really want to taste that futuristic Johnnie Walker whisky that Deckard chugged in the first Blade Runner. The experience is offering a limited-edition Johnnie Walker Black Label The Director's Cut bottle, inspired by the original prop from the first film that is near-impossible to find.
The Blade Runner 2049 Experience will be located across the street from the Convention Center where Comic-Con is taking place. The experience is open from 10 a.m. – 7 p.m. on Thursday and Friday; 9 a.m. to 7 p.m. on Saturday; and 10 a.m. – 6 p.m. on Sunday. Admission is free, but guests will have to register to enter at a specific appointment time or choose to wait in line.
Starring Ryan Gosling and Harrison Ford, Blade Runner 2049 will be released on October 6 in 2D and 3D in select theaters and IMAX.