'The Grudge' Reboot Taps 'The Eyes Of My Mother' Director Nicolas Pesce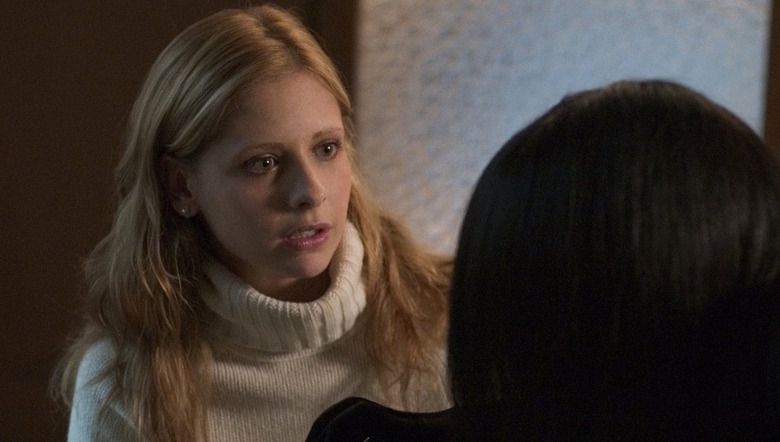 The Grudge will be resurrected once again.
Director Nicolas Pesce, whose directorial debut The Eyes of My Mother made a big splash at 2016's Sundance Film Festival and Fantastic Fest, has been tapped to helm a reboot of The Grudge for Ghost House Pictures.
Pesce is set to direct the reboot of The Grudge and rewrite the script from Midnight Meat Train writer Jeff Bulher, according to a report by Deadline.
The reboot has been in development since 2014 under Sam Raimi's Ghost House Pictures production company. Raimi produced the 2004 reboot of Takashi Shimizu's J-horror film, Ju-on: The Grudge. The 2004 film, also directed by Shimizu, starred Sarah Michelle Gellar as a nurse in Tokyo who is plagued by a vengeful curse and helped kick off a wave in low-budget genre adaptations of Japanese horror films.
The Grudge reboot will be produced by Raimi, Rob Tapert and Taka Ichise with Roy Lee, Doug Davison, Joe Drake and Nathan Kahane executive producing. Erin Westerman and Romel Adam will oversee for Ghost House.
Here is the plot synopsis of 2004's The Grudge:
This American remake of director Takashi Shimizu's popular Japanese movie franchise The Grudge puts Buffy the Vampire Slayer alumna Sarah Michelle Gellar back into the line of supernatural fire. When Karen (Gellar), an American student working with a Japanese health center for college credit, comes across a mysterious curse, she quickly finds herself embroiled in a fight for her own sanity, and, ultimately, her very survival. Known as a "grudge," the curse was born inside of a house after its inhabitants died while consumed by rage — according to legend, the curse touches all who come into contact with it, and will torment those unlucky individuals until they, too, become part of the grudge . Each time the curse finds a new victim, it is, in a sense, reborn, and will continue on its path unless Karen can free herself from its control over her. This version of The Grudge is also directed by Shimizu, and features Jason Behr, Clea DuVall, Kadee Strickland, William Mapother, and Bill Pullman in supporting roles.
That The Grudge is being rebooted is not a surprise, with the original J-horror adaptation phenomenon, The Ring, returning in 2017 as Rings — but with a modern day update by making the object of the curse a viral video instead of a video tape. The Grudge may or may not get such a modern update, as the curse hinges on a family-centered curse rather than a technology-based one.
Pesce seems like a reasonable choice for a Grudge reboot, having made an impact with his directorial debut, his arthouse horror film The Eyes of My Mother (our own Jacob Hall reviewed it here). He is currently in post-production for the psychological thriller Piercing starring Mia Wasikowska and Christopher Abbott.