'Sons Of Anarchy' Spin-Off 'Mayans MC' To Undergo Recasting And Reshoots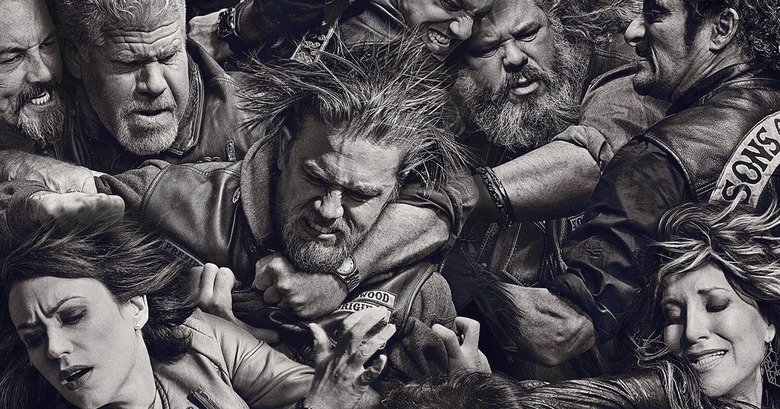 FX's upcoming spin-off to one of its most popular shows, Sons of Anarchy, is about to go through some serious changes. Kurt Sutter and Elgin James' (Little Birds) series, Mayans MC, is going to recast some major roles and go through reshoots. The entire pilot, in fact, is going to be reshot.
Below, get the latest news on the Sons of Anarchy spin-off.
According to Variety, Sutter directed the original pilot, but he won't handle directorial duties on the new one. The Sons of Anarchy creator is going to focus on writing instead. Norberto Barba, a new executive producer brought on board, is going to direct. Sutter commented on Twitter that FX is allowing for improvement: "This was the process for SOA. Shows Fox/FX's commitment to series. Allows me and Elgin to improve cast, script, and direction!"
Sutter recast one of his hit series' lead actors at the start as well. Scott Glenn originally played Clay Morrow, but his scenes were reshot with Ron Perlman in the role. The reshoots and casting of Perlman worked out just fine in the case of Sons of Anarchy. There's confirmation of who's being recast on Mayans MC, though.
Mayans MC currently stars JD Pardo, Edward James Olmos, and John Ortiz, to name a few. Sutter told Deadline he didn't want to set the series "too close to the world we already know":
It's the same [biker] subculture, but it'd be interesting to see the influences of that culture and how it impacts the subculture we already understand. I would do a contemporary piece, not a prequel, and place it far enough away from Northern California that it wouldn't step on the mythology that's already been told. It doesn't mean that there couldn't be some cool, ironic crossovers with familiar characters as the series progressed. I wouldn't want to set it too close to the world we already know, and step on that. It would be cannibalizing what we worked very hard to create and I wouldn't do anything to undermine.
Mayans MC is set after the events of Sons of Anarchy. The spin-off follows EZ Reyes (JD Pardo), a prospect in the Mayans MC charter who's seeking vengeance against a local cartel. Unlike Sons of Anarchy, the show won't take place in Northern California — it's set at the California/Mexico border. We should maybe expect an appearance or two from a few members of SAMCRO, though.