'Hellboy' Reboot Could Land At Lionsgate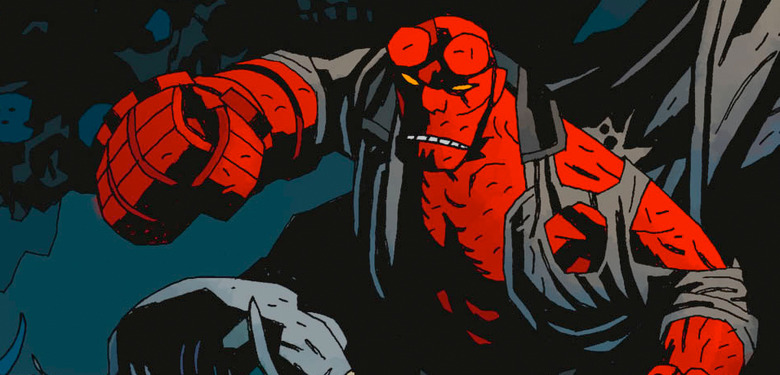 The Hellboy reboot has a director, a star, and a title — the only thing that was missing was a studio to call home.
Now, it could have one, with Lionsgate Films reportedly in negotiations to distribute Hellboy: Rise of the Blood Queen, which is to be directed by Neil Marshall and star Stranger Things actor David Harbour as the titular superhero.
The Splash Report first reported that Lionsgate is in advance negotiations to pick up and distribute the Hellboy reboot. It has since been confirmed by various other publications, though there has been no news yet of whether Lionsgate has sealed the deal.
This would be another chapter in Hellboy's long and troubled history with studios. The first Hellboy, directed and co-written by Guillermo del Toro, was made by Revolution Studios and released by Sony in 2004. The franchise changed hands again with its 2008 sequel, Hellboy: The Golden Army, which was made by Relativity Media and distributed by Universal Pictures.
While neither film made a huge mark at the box office, the first clearly had enough of a following for Universal to invest in the sequel. However, with the home video market starting to peter out, Hellboy had trouble finding another studio who would be willing to greenlight del Toro's ambitious vision for Hellboy 3. Promises of a Hellboy 3 started to stagnate — despite enthusiasm from star Ron Perlman and avid fans of the first two Hellboy films — and rumors of the third film were finally laid to rest when Hellboy comics creator Mike Mingola announced Marshall as the new director of an R-rated film adaptation.
If Lionsgate does close the deal, it may turn out to be the best option for the horror-driven version of Hellboy that Marshall — who is known for directing horror films like The Descent as well as episodes of HBO's Game of Thrones — wants to make. Lionsgate has been a welcome home for pulpy genre films like John Wick and Crank, and have been known for investing in R-rated superheroes before with Punisher: War Zone. It would mean a leaner, smaller budget for Hellboy: Rise of the Blood Queen, but that would likely work in the favor of a Hellboy film with horror leanings.
As a fan of the del Toro Hellboy films but not someone who's familiar with the horror roots of the Hellboy comics, I'll admit I was on the fence with an R-rated Hellboy — it seems like an extreme 180 from the fantastical, bright color schemes of the first Hellboy movies. But under the Lionsgate umbrella, Hellboy: Rise of the Blood Queen could find the ultraviolent genre niche it's aiming for, and convert fans and non-fans of the original films.
Larry Gordon, Lloyd Levin, and Mike Richardson are on board to produce Hellboy: Rise of the Blood Queen, while Andrew Cosby, Christopher Golden, and Mignola are writing the screenplay.
Filming on Hellboy: Rise of the Blood Queen is slated to begin this fall.