Now Stream This: Adam Sandler's Best Performance, An Alfred Hitchcock Classic, And A Very Weird Horror Movie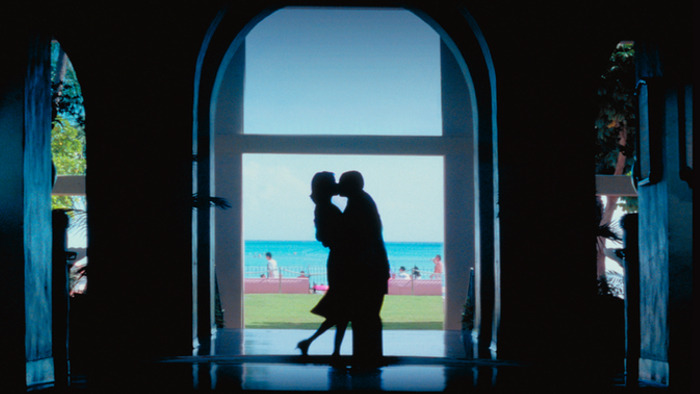 (Welcome to Now Stream This, a column dedicated to the best movies streaming on Netflix, Amazon, Hulu, and every other streaming service out there.)
Independence Day just ended, which for many of us means it's time to trudge back to work, our sunburns peeling, our clothes still stinking of BBQ (gross, throw your clothes in the washer, weirdo). What better way to cure the post-July 4th blues than by kicking back and streaming some movies? In this edition of Now Stream This, we have a silent Hitchcock classic, a chilling ghost story, a hilarious mockumentary about dog shows, James Caan getting his ankles smashed by a sledgehammer, and the best performance of Adam Sandler's career. Let's get streaming.
Now Streaming on Netflix
Paul Thomas Anderson is one of the best filmmakers working today, directing one modern classic after another. While most would look to There Will Be Blood as Anderson's masterpiece, the case could also be made for his dreamy 2002 Punch-Drunk Love. Like a musical where the songs never start, Anderson's film channels Jacques Demy while also managing to help Adam Sandler deliver the best performance of his spotty career. Sandler is an emotionally unstable plunger salesman who plunges head-first into a relationship with the equally unbalanced Lena (Emily Watson). The result is sweet, romantic and even a little scary. Also featuring a scene-stealing performance from the late, great Philip Seymour Hoffman.For fans of: The Umbrellas of Cherbourg, A Woman is a Woman, Magnolia, pudding.
Now Streaming on FilmStruck
Alejandro Amenábar's chilling The Others had the misfortune of hitting theaters after The Sixth Sense, which resulted in the film being labeled by many as just another Sixth Sense knock-off. But save for a twist ending, this slow-burn ghost story is far removed from M. Night Shyamalan's breakout hit. Nicole Kidman is at her icy best as a wealthy woman who hires on a trio of housekeepers to help with the raising of her two children. The children suffer from a rare disease that makes them ultra-sensitive to light, resulting in a lot of drawn curtains and dark, creepy rooms. As the film unfolds, Kidman and her children become more and more convinced their gothic home is haunted, and that the new housekeepers know more than they're letting on. Subtle and spooky, The Others is one of the best ghost films of the 21st century.For fans of: The Innocents, The Sixth Sense, Stir of Echoes, Nicole Kidman frequently gasping.
Now Streaming on Amazon Prime Video
Cinema suffered a great loss when Jonathan Demme died in April, but at least audiences can cherish the films he made while he still inhabited this big, confusing planet. Take for instance his hilarious 1988 comedy Married to the Mob, starring Michelle Pfeiffer as a mafia widow being wooed by an undercover FBI Agent (Matthew Modine). Offbeat and full of madcap energy, Married to the Mob is another reminder of what an incredible filmmaker Demme was, and how unfortunate it is we'll never get to see something new from him.For fans of: Something Wild, My Blue Heaven, My Cousin Vinny, shoulder pads.
Now Streaming on FilmStruck
Alfred Hitchcock's third feature film was this 1927 silent thriller inspired by the Jack the Ripper murders. There's a serial killer on the loose preying on young blonde women, and the residents of a London boarding house begin to suspect that the newest tenant might have blood on his hands. The Lodger may have been released before Hitchcock had fully established himself as the "Master of Suspense", but the film is an early revelation of his talent as well as hinting at his near-fetishistic obsessions. Hitchcock scholar Donald Spoto said The Lodger marked "the first time Hitchcock...revealed his psychological attraction to the association between sex and murder, between ecstasy and death."For fans of: Shadow of a Doubt, The Lady Vanishes, M, London fog (the actual fog, not the company that makes trench coats). 
Now Streaming on Amazon Prime Video
Atom Egoyan's devastating drama focuses on the aftermath of a horrific, fatal school bus crash in a small Canadian town. Ian Holm plays a morally ambiguous lawyer who comes to town with hopes of lawsuit gold, only to buck up against the various townsfolk and their various secrets. With wintry scenery that burns itself on your retinas and a heartbreaking score from Mychael Danna, The Sweet Hereafter is an unforgettable film about survival, guilt, and grief.For fans of: The Ice Storm, Affliction, Exotica, gorgeous movies that make you feel terrible.
Now Streaming on Netflix
I'm sure everyone has their personal favorite, but for my money Christopher Guest's best mockumentary is his hysterical 2000 Best in Show. An in-depth look at the lives of a group of weirdos about to enter their canines in a national dog show, Best In Show is one of those comedies where you may need to hit pause to come up for air after laughing too much. As an added bonus, there's plenty of very good doggos to see.For fans of: Waiting for Guffman, A Mighty Wind, This Is Spinal Tap, Parker Posey with braces.
Now Streaming on Hulu
Stephen King adaptations don't get much better than this unforgettable 1990 film from Rob Reiner. James Caan is an injured romance novelist who finds himself in the care of a nurse who just happens to be his number one fan, and also crazy as a loon. Kathy Bates won a much-deserved Best Actress Oscar for her portrayal of the nutty, violent Annie Wilkes, but the film's real secret is its air-tight script from William Goldman, which takes King's pulpy prose and puts a captivating sheen on it.For fans of: Stand By Me, Dolores Claiborne, Fatal Attraction, sledgehammers.
Now Streaming on Shudder
Looking for something weird? Look no further than this bonkers 1979 horror flick from David Schmoeller. A group of teens on a road trip find themselves stranded at the run-down tourist trap of Mr. Slausen (Chuck Connors). Slausen seems like a harmless old coot, but it turns out he is freakin' insane, and his tourist trap is home to his even crazier twin brother (maybe) and also a bunch of mannequins that may or may not be alive. Is this some fever dream? Did we all eat a bunch of fast food before bed and then imagine this movie? Who knows! All that matters is that it's utterly nuts, loaded with scenes where mannequins turn to the camera, open their mouths wide and yell "Ahhhhh!" for no reason. You may think I'm making all this up, but I'm 100% serious — all this and more happens in Tourist Trap.For fans of: House of Wax (2005), The Texas Chain Saw Massacre, The Hills Have Eyes, screaming mannequins.
Now Streaming on Hulu
As is the case with all Woody Allen movies, it's not easy to separate the director's own unpleasant personal life from his work, and the viewer is under no obligation to do so. If you can look passed Allen's life, however, you will find some great films, particularly this black and white masterwork from 1979. Allen himself has said he hates the film, but who cares what he thinks, the movie is great. Featuring stunning cinematography from Gordon Willis and a dynamite opening portraying various corners of the city set to George Gershwin's "Rhapsody in Blue", Manhattan is one of Allen's best films.For fans of: Annie Hall, Stardust Memories, Hannah and Her Sisters, neurotics.
10. The Alchemist Cookbook
Now Streaming on Shudder
If someone remade The Evil Dead as a two-man (and one cat) stage show, you might get something like Joel Potrykus's gonzo The Alchemist Cookbook. Ultra low-budget yet captivating, Potrykus' film follows a loner (Ty Hickson) hiding out in a camper somewhere in the woods in Michigan. Day and night he toils away conducting experiments in alchemy, summoning dark forces in the process. This weird wonder will try the patience of some, but those who can stick with it will be rewarded with Potrykus unique style.For fans of: The Evil Dead, Buzzard, Antichrist, opossums.