Watch: 'Star Wars: Forces Of Destiny' Shorts Featuring Daisy Ridley, Lupita Nyong'o, And More [Updated]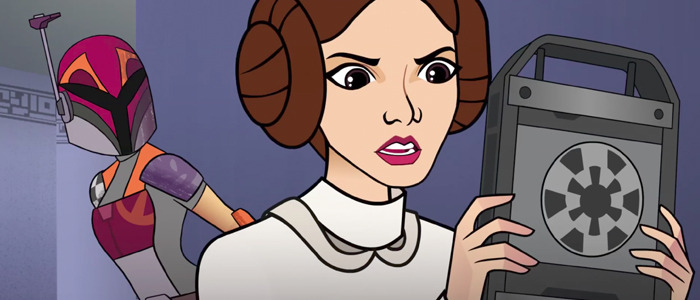 Back in April, Disney and Lucasfilm unveiled their plans for Star Wars: Forces of Destiny, a campaign consisting of toys, animated shorts, and children's books intended to shine a spotlight on the female characters in a galaxy far, far away. The campaign kicked off last week, and we've updated this article with all of the Forces of Destiny shorts  so you can watch them all in one place. Take a look at the episodes and tell us what you think!
What to Expect
The shorts, which tell canonical stories set in and around major events in Star Wars lore, feature prominent characters from multiple eras of the franchise's history. There's Princess Leia from the original trilogy era (voiced by Shelby Young), Padmé Amidala from the prequels (voiced by The Clone Wars' Catherine Taber), Rey and Maz Kanata from The Force Awakens (voiced by Daisy Ridley and Lupita Nyong'o, respectively), Rogue One's Jyn Erso (voiced by Felicity Jones), and three women from Star Wars Rebels: the Mandalorian warrior Sabine Wren (Tiya Sircar), Jedi Ahsoka Tano (Ashley Eckstein), and Twi'lek pilot Hera Syndulla (Vanessa Marshall).
And don't be surprised if these characters begin to meet up with each other – well, the ones in which it'd make sense on the timeline, anyway. Carrie Beck, one of the executive producers of the shorts, previously described the stories like this:
One of the opportunities here was to tell the stories in between the larger moments and imagine some of the ways our characters have crossed. It's all part of the larger swath of storytelling.
The first episode premiered on Disney's YouTube page on Monday, July 3, 2017, and a new episode will arrive every day until July 9. On that date, the first eight episodes will air on the Disney Channel for those who haven't been paying attention online. (But you won't have to tune in there, because if you bookmark this page, you'll see each of the new episodes posted below.) As for what happens after that, Lucasfilm publicist Tracy Cannobbio says more episodes on the way:
A new series of shorts will debut later in the year.

— Tracy Cannobbio (@Tcann13) June 27, 2017
Episode 1: Sands of Jakku
Rey fends off a creature that wants to devour her new friend, BB-8.
Episode 2: BB-8 Bandits
Rey and BB-8 take off on a speeder to flee scavenger thugs who want to steal BB-8.
Episode 4: The Padawan Path
On her way to a Jedi ceremony, Ahsoka leaps into action to stop a malfunctioning droid.
Episode 5: Beasts of Echo Base
Leia and R2-D2 must free Chewie from the clutches of a ferocious wampa.
Episode 6: The Imposter Inside
Ahsoka and Padme face off against a shape-shifting bounty hunter.
Episode 7: The Stranger
Jyn comes to the aid of a little girl bullied by stormtroopers.
Episode 8: Bounty of Trouble
On a secret mission, Leia and Sabine come under attack by bounty hunter droid IG-88.
What do you think of these animated adventures?