'Top Gun' Sequel Confirmed For A July 2019 Release Date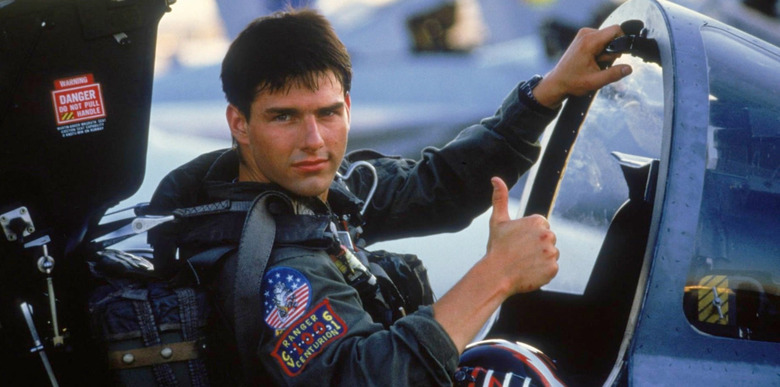 The sequel to Top Gun didn't feel the need to speed into theaters — the follow-up to the Tom Cruise-starring military action film will be released 33 years after the original.
So that's just enough time for us to get over Goose.
Paramount Pictures has confirmed that the Top Gun sequel is set for a July 12, 2019, release date, and will feature Cruise returning to the role of former hotshot pilot Maverick, according to Variety.
The sequel, which Cruise had initially called Top Gun: Maverick, has not yet received an official title from Paramount.  Joseph Kosinski, who directed Cruise in the 2013 sci-fi feature Oblivion, is still Paramount's front-runner for Top Gun 2.
Cruise was working with the first Top Gun director Tony Scott on the sequel before Scott's untimely death in 2012, and was the first to break the news to surprised Australian talk show hosts that rumors of a Top Gun sequel were true. Cruise is producing the film alongside Skydance CEO David Ellison and Jerry Bruckheimer, who produced the 1986 original.
The original film followed the students at the Navy's Fighter Weapons School who trained to be fighter pilots in the F14A Tomcat. Cruise starred as the hotshot Lieutenant Pete "Maverick" Mitchell who showcases unconventional, reckless strategies while romancing the young flight instructor played by Kelly McGillis, and having frequent run-ins with Val Kilmer's straight-laced Lieutenant Tom "Iceman" Kazanski. The film also starred Tom Skeritt. Anthony Edwards and a pre-fame Meg Ryan. Kilmer has expressed enthusiasm about reprising his role as Iceman, though it's yet to be seen as to whether he's up to re-enacting the famous volleyball scene.
Plot details on Top Gun 2 are vague, but Variety also reports that the sequel will focus on how drone technology has changed the Navy fighter pilot field:
"This latest project will be set in a world of drone technology and fifth generation fighters along with exploring the end of the era of dogfighting."
The clash of technology and good old-fashioned human instinct is a timeless story — and one that is all the more relevant today. Drone technology and A.I. are becoming more commonly used both in military and day-to-day functions, and seeing the tension between new and old generation pilots is a sturdy foundation for a sequel so many years in the making. Koskinski could provide a sleek sci-fi take on this conflict, having previously directed Oblivion and Tron: Legacy, though I hope he'll bring back some of the original film's bright, over-saturated earthiness.