Mahershala Ali Confirmed To Star In 'True Detective' Season 3 [Updated]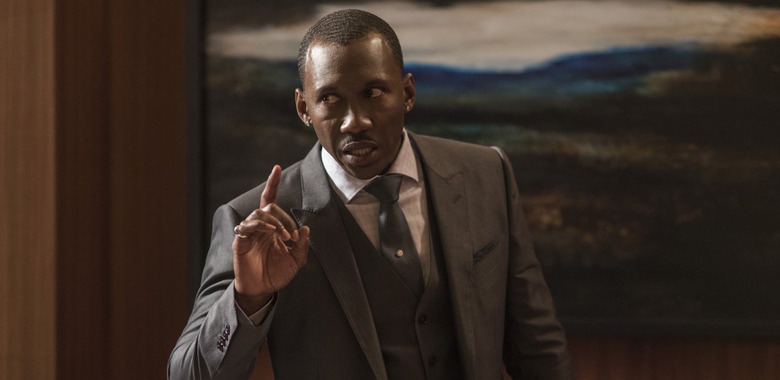 Update: HBO's president of programming Casey Bloys has confirmed that Mahershala Ali will star in True Detective season 3. No directors have been hired yet, but he has read the scripts for the first five episodes: "They are terrific. I was very impressed and excited. We are talking to directors, and when we have a director we want to hire, it will be a go."
Our original story follows below.
***
The first season of True Detective was one of the most stunning pieces of prestige television in recent memory, featuring magnetic chemistry between leads Woody Harrelson and Matthew McConaughey, and solidifying McConaugney's rise as a serious actor (we can probably also thank the show for popularizing the "McConaissance"). That's why the show's fall from grace was all the more tragic during a confusing second season that squandered a talented cast of Colin Farrell, Rachel McAdams, Taylor Kitsch and Vince Vaughn.
It seemed unlikely that True Detective could bring back the goodwill it had achieved in its first season, but the recent news that Mahershala Ali — fresh off an Oscar win for his profound turn in Moonlight — is in talks to star in the third season, might just do the trick.
Ali is reportedly nearing a deal to play the lead in the third season of the HBO show, according to The Tracking Board. While Ali hasn't closed the deal yet and season 3 of True Detective has not yet been officially greenlit, The Tracking Board's sources are confident that both Ali and the season order will come through.
Ali could be a redeeming factor for the HBO show. After the second season failed to capture the attention of critics and audiences with a convoluted and boring plot that made it one of the most disliked shows of the season, the first season seemed like a fluke. In hindsight, season 1's success seemed to ride on McConaughey's unhinged performance and Harrelson's easygoing foil, as well as the singular vision of director Cary Fukunaga, whose gorgeous depictions of a barren Southern Gothic landscape was conspicuously absent from the second season.
It was clear that showrunner and creator Nic Pizzolatto was not enough of a creative force to maintain the first season's particular brand of moody Americana. But season 3 of True Detective may be a much-needed revitalization for the series, with Deadwood mastermind David Milch joining the creative team and Ali as the potential lead.
Ali is an inspired choice. He's not only a scene-stealer in feature films like Moonlight or Hidden Figures, but he packs a powerful presence in television shows like Luke Cage and House of Cards. And he's a remarkably subtle actor who could elevate some of the more ponderous lines that True Detective requires of its lead characters — he's the only one I can imagine pulling off "I don't sleep, I just dream" better than McConaughey.
While there are no plot details for season 3, I hope that True Detective can return to its stark Southern Gothic roots of the first season. Ali would be a welcome lead character of color in an area of America that is depicted as increasingly white on screen, but is inherently diverse.