New Details About The Coen Brothers' Western TV Series 'The Ballad Of Buster Scruggs'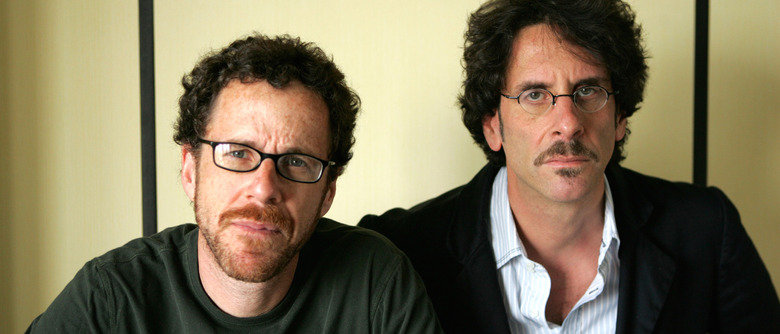 Earlier this year, we learned that filmmakers Joel and Ethan Coen had become the latest Hollywood directors who were making the jump to the small screen when they announced they'd be writing and directing a new TV series. We knew the title (The Ballad of Buster Scruggs), the genre (a Western, which is something they're familiar with through films like True Grit and No Country for Old Men), and that they'd be collaborating with Annapurna Television for the limited series, which was described as an integrated TV and theatrical experience.
Exactly how that last part will work is still up in the air, but at least now we have some newly-released plot details for the show.
The Albuquerque Journal (via The Playlist) doesn't refer to Buster Scruggs as a TV show, but instead as "a feature-length omnibus consisting of six separate stories," all of which are Westerns. Here's a break down of what those six stories will be:
"The Ballad of Buster Scruggs" is about a singing cowboy.
"Near Algodones" is about a high-plains drifter whose own fecklessness dogs his attempts at bank robbery and cattle driving.
The third story, "Meal Ticket," follows an actor and impresario of a traveling show.
The fourth, "All Gold Canyon," is about a prospector who happily finds a gold seam but then unhappily finds an evil encroacher.
The fifth, "The Gal Who Got Rattled," follows two trail bosses on the Oregon Trail and a woman on the wagon train who needs the help of one of them and who might be a marriage prospect for the other.
Lastly, "The Mortal Remains," about the five very different passengers on a stagecoach of mysterious destination.
Similar to how the Coen Brothers' Golden Age of Hollywood movie Hail, Caesar! allowed them to tell multiple stories within the framing of a larger narrative by exploring different genre movies being made on a Hollywood studio lot, this new "omnibus" seems to give them the ability to tell a variety of different Western-themed stories under the same roof, so to speak, without having to make multiple Western feature films in a row.
There's still a lot that's up in the air, including casting and which network or streaming service will ultimately be the home for this ambitious project, not to mention the potential for a theatrical component. But production takes place from mid-July to September, so I expect we'll learn more about casting soon and see this – in some form or another – on screens in 2018.