Evan Peters Is Returning As Quicksilver In 'X-Men: Dark Phoenix'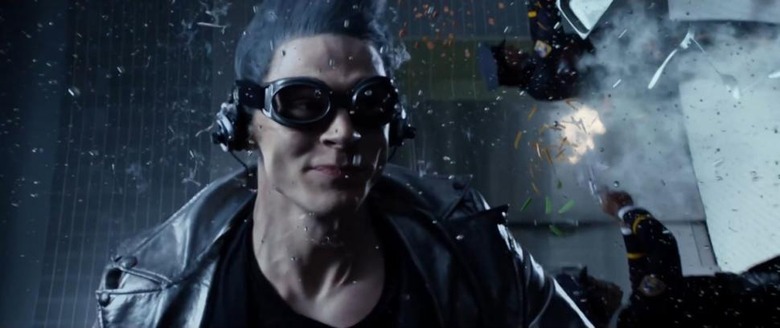 The scene-stealing speedster is here to stay in the revamped X-Men series. Quicksilver, played with a charming buoyancy by Evan Peters, is confirmed to be joining the cast of X-Men: Dark Phoenix.
Although Quicksilver didn't play a role in the original comic book story line of Dark Phoenix, Peters' two appearances as the mutant speedster in X-Men: Days of Future Past and X-Men: Apocalypse proved to be so popular (and sadly, one of the saving graces of Apocalypse) that he will be written into the plot for the film.
Peters was not in the original cast announcement for X-Men: Dark Phoenix, which included the new mainstays of the X-Men universe after the franchise was given a soft reboot in X-Men: First Class, then consolidated the universe's two timelines through X-Men: Days of Future Past. Jennifer Lawrence, Michael Fassbender, James McAvoy, and Nicholas Hoult will be returning in their roles as Mystique, Magneto, Charlex Xavier, and Beast. The young cast of  Apocalypse, Sophie Turner, Alexandra Shipp, Tye Sheridan, and Kodi Smit-McPhee, will also return as Jean Grey, Storm, Cyclops, and Nightcrawler.
Peters will reprise his role as Quicksilver in X-Men: Dark Phoenix according to The Hollywood Reporter. He'll be joined by The Next Step actor Lamar Johnson, who is the new cast member in the film apart from Jessica Chastain, who is in talks to play the villainous Shi'ar Empress Lilandra. Johnson's character is being kept under wraps.
X-Men: Dark Phoenix chronicles psychic mutant Jean Grey's transformation into the dangerous, all-powerful being, Phoenix. It will be mean a starring role for Turner, who was previously only known for Game of Thrones. However, with a cast this unwieldy and large, X-Men: Dark Phoenix will most likely give much of the focus to the big names and established talent that are Lawrence, Fassbender, and McAvoy. That's what has happened with the last three X-Men movies, anyways.
While Quicksilver is a fan favorite character whose kinetic and creatively filmed high-motion scenes are the highlights of both X-Men movies he has appeared in, Evans probably won't have much to do. Like in Days of Future Past and Apocalypse, his role will probably get relegated to one scene-stealing and highly marketed rescue scene. With the X-Men dealing with Jean Grey's descent into evil, they probably won't have time to explore Peter Maximoff's newfound revelation that he's Magneto's son.
First-time director but long-time X-Men scribe and producer Simon Kinberg will have a lot to tackle in X-Men: Dark Phoenix. The story was somewhat explored before in X-Men: The Last Stand, but with that film erased from the movie universe's timeline, it allows Kinberg to make a fresh start with the rich and well-regarded X-Men story.
X-Men: Dark Phoenix is set to hit theaters November 2, 2018.