Amazon's Fake '80s Cop Show 'Comrade Detective' Will Be Dubbed By Channing Tatum, Joseph Gordon-Levitt, And More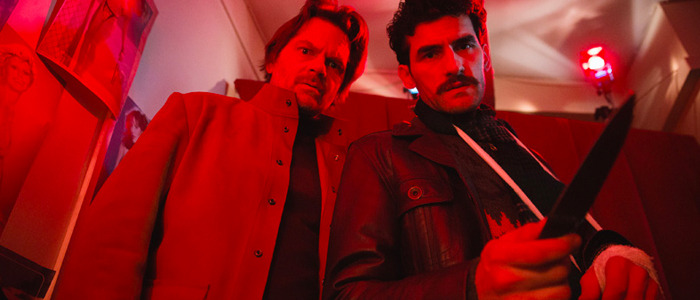 Amazon and A24 may have just genetically engineered a television show that perfectly aligns with my sensibilities. Comrade Detective, which debuts later this summer, is being made to look like a Romanian cop show from the 1980s, with Romanian actors Florin Piersic Jr. and Corneliu Ulici playing the lead roles. But here's the part that will make people raise their eyebrows: Channing Tatum and Joseph Gordon-Levitt are providing dubbed voiceovers for those characters, and they'll be joined by a crazy-talented group of actors that will be doing some dubbing of their own. Read the full list of names in the Comrade Detective cast below.
Before we get to the cast, here's the show's official synopsis so you know what we're dealing with:
In the thick of 1980's Cold War hysteria, the Romanian government created the country's most popular and longest-running series, Comrade Detective, a sleek and gritty police show that not only entertained its citizens but also promoted Communist ideals and inspired a deep nationalism. The action-packed and blood-soaked first season finds Detectives Gregor Anghel and Iosef Baciu investigating the murder of fellow officer Nikita Ionesco and, in the process, unraveling a subversive plot to destroy their country that is fueled by — what else — the greatest enemy: capitalism. Though the beloved show was sadly forgotten about after the fall of the Berlin Wall, it has been rediscovered and digitally remastered now with its main heroes voiced by Tatum and Gordon-Levitt. Comrade Detective is a true portal into a time and place and a powerful reminder of what art can be—and it is now ready to be seen by the modern world on a larger scale than ever before.
That sounds totally ridiculous – I'm imagining it sort of like a full-length version of Key & Peele's Strike Force Eagle 3: The Reckoning. Now, get a load of this cast: Jenny Slate, Chloe Sevigny, Jake Johnson, Jason Mantzoukas, Nick Offerman, Fred Armisen, Kim Basinger, Mahershala Ali, Tracy Letts, Bobby Cannavale, Richard Jenkins, Debra Winger, Mark Duplass, Katie Aselton Duplass, Jerrod Carmichael, Bo Burnham, and John Early. That rivals HBO's Animals and Netflix's Wet Hot American Summer shows when it comes to gathering some of the best comedic voices working in the industry today.
This series was created by Brian Gatewood and Alex Tanaka (The Sitter), and has Rhys Thomas (Documentary Now!) lined up to direct, while Tatum will serve as an executive producer as well as voiceover actor. I feel like this has huge potential to be a hilarious and maybe even politically relevant piece of comedy, and it might be the last push I needed to convince me to finally pay for an Amazon Prime account.
Comrade Detective premieres on Amazon Prime Video in the United States, United Kingdom, Canada, Australia, and New Zealand on August 4, 2017.
Y'all aren't ready for what I've been working on with @freeassocla & @a24. Comrade Detective. August 4th on @amazonvideo. #comradedetective pic.twitter.com/DVrVliOSFk

— Channing Tatum (@channingtatum) June 29, 2017