'Cult Of Chucky' Trailer: The Murderous Doll Is Back For Some Direct-To-Video Mayhem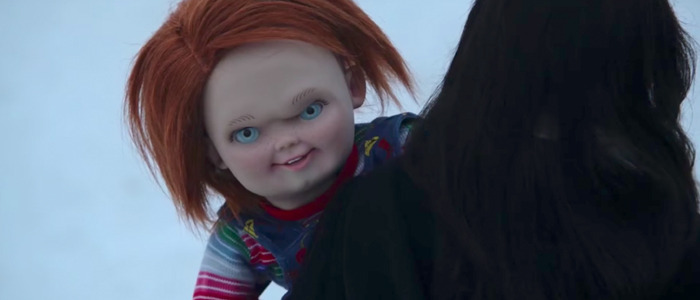 Say what you will about Chucky, the murderous doll who first appeared in the 1988 movie Child's Play, but the cinematic killer has definitely proven to have some serious staying power. It's been four years since the knife-wielding serial slasher, who's been voiced by The Lord of the Rings and Deadwood actor Brad Dourif in all six Chucky movies so far, appeared in Curse of Chucky. But now he's back in another new direct-to-video horror film from director Don Mancini, who's helmed the three most recent entries. Watch the Cult of Chucky trailer below.
Cult of Chucky trailer
I've only seen the first Child's Play film, but I remember seeing the trailers for both 1998's Bride of Chucky and 2004's Seed of Chucky and thinking how drastically different they looked than the movie that kicked this whole thing off. Those films apparently embraced camp in a way that the others hadn't, and beginning with 2013's Curse, the series has returned to its horror roots.
And speaking of returns, there are a ton of returning cast members here: Jennifer Tilly is back as Chucky's wife Tiffany, Fiona Dourif is back as the wrongly-accused Nica, and even Alex Vincent, the guy who played young Andy in the original movie back in '88, is back to reprise that role here. Having only seen the first film, I'm clearly not equipped to assess the deeper mythology of this franchise, but can someone remind me again why people can't just stomp on this doll's head once and for all? Or set him on fire or something? I'm sure there's a whole set of rules in place that explains why he can't die, but I still can't shake the fact that the doll looks super goofy.
Confined to an asylum for the criminally insane for the past four years, Nica Pierce (Fiona Dourif) is erroneously convinced that she, not Chucky, murdered her entire family. But when her psychiatrist introduces a new therapeutic "tool" to facilitate his patients' group sessions — an all-too-familiar "Good Guy" doll with an innocently smiling face — a string of grisly deaths begins to plague the asylum, and Nica starts to wonder if maybe she isn't crazy after all. Andy Barclay (Alex Vincent), Chucky's now-grown-up nemesis from the original Child's Play, races to Nica's aid. But to save her he'll have to get past Tiffany (Oscar®-nominee Jennifer Tilly), Chucky's long-ago bride, who will do anything, no matter how deadly or depraved, to help her beloved devil doll.
Cult of Chucky arrives on Blu-ray, DVD, and Digital HD on October 3, 2017.