'Ingrid Goes West' Trailer: Aubrey Plaza's Obsession Gets Out Of Control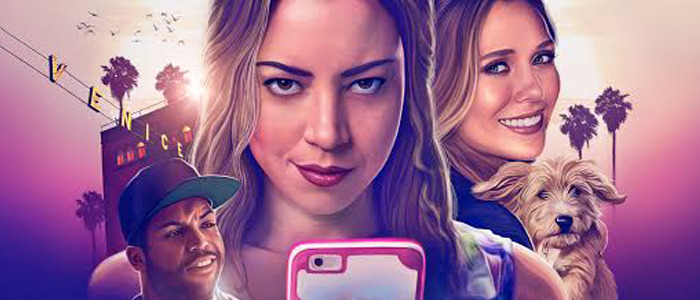 Here's the second trailer for Ingrid Goes West, a satire of Instagram culture and obsession that marks the directorial debut of filmmaker Matt Spicer. Aubrey Plaza (Parks and Recreation) plays Ingrid, a pathetic stalker who develops an obsession of an Insta-celeb named Taylor (Elizabeth Olsen). When Ingrid heads across the country to ingratiate herself into Taylor's life, things seem to go well before they quickly go off the rails.
Ingrid Goes West trailer
There are some strange editing choices here that sort of make sense as a way to establish the scope of the film, but that don't really do the movie justice when it comes to accurately selling its comedic tone. I saw this at a screening about a month ago, and the film is way funnier than this trailer makes it out to be: Plaza is fantastic as the desperate, lonely obsessive, and Olsen transforms into the embodiment of the modern day Valley girl – the fake, vapid, Insta-famous quasi-celeb who makes constant trips to Joshua Tree and refers to everything as "amazing."
But don't sleep on the totally-scene-stealing performance from O'Shea Jackson, Jr. /Film's Peter Sciretta reviewed this movie back in January at the Sundance Film Festival, and he shares the opinion that Jackson is terrific here:
The surprise breakout performance of the film comes from O'Shea Jackson Jr., the rapper son of Ice Cube, who portrayed his father in Straight Outta Compton. I imagine that Jackson will be included on casting wish-lists for years to come. His character, who plays a neighbor to Ingrid, is an aspiring screenwriter obsessed with Batman — which leads to some incredible laugh out loud moments and (maybe a slight spoiler, you've been warned) possibly the best sex scene of the year.
Ingrid Goes West arrives in theaters on August 11, 2017.
Ingrid Thorburn (Aubrey Plaza) is an unhinged social media stalker with a history of confusing "likes" for meaningful relationships. Taylor Sloane (Elizabeth Olsen) is an Instagram-famous "influencer" whose perfectly curated, boho-chic lifestyle becomes Ingrid's latest obsession. When Ingrid moves to LA and manages to insinuate herself into the social media star's life, their relationship quickly goes from #BFF to #WTF. Built around a brilliantly disarming performance from Aubrey Plaza, Ingrid Goes West (winner of the Waldo Salt Screenwriting Award at Sundance) is a savagely hilarious dark comedy that satirizes the modern world of social media and proves that being #perfect isn't all it's cracked up to be.