A Majestical Photo: 'Hunt For The Wilderpeople' Star Julian Dennison Joins 'Deadpool 2'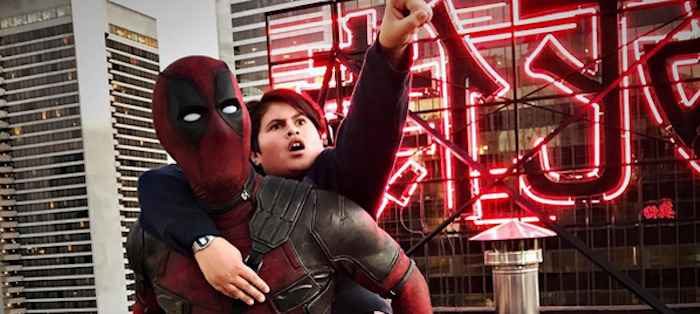 Julian Dennison didn't choose the superhero life, the superhero life chose him.
Or rather, that's how I like to think negotiations went down when the breakout star from Hunt for the Wilderpeople was announced to join the cast of Deadpool 2 — via a very fitting Instagram photo from Ryan Reynolds depicting the diminutive Dennison being given a piggy back ride by Deadpool.
Dennison first captured our hearts and our funny bones with his role as Ricky Baker in Taika Waititi's hilarious and touching ode to the New Zealand brush in Hunt for the Wilderpeople — one of the best movies of 2016.
Now, it looks like both he and Waititi have been plucked up by the superhero industry, with Waititi helming Thor: Ragnarok — which has fans newly anticipating the film thanks to the trailer's irreverent humor — and now Dennison announced to join the cast of Deadpool 2. (Now, it's only a matter of time until Sam Neill gets cast as a supervillain.)
Reynolds posted an Instagram photo of himself in costume as Deadpool, carrying Dennison on his back (echoing a scene from Hunt for the Wilderpeople) as Dennison gives his trademark bewildered face and points to an unseen something in the distance.
Giving Julian Dennison a warm ????????L welcome as we stare off into our beautiful future together. #RickyBakerPool #NZ
A post shared by Ryan Reynolds (@vancityreynolds) on Jun 27, 2017 at 11:17pm PDT
"Giving Julian Dennison a warm [Deadpool] welcome as we stare off into our beautiful future together," Reynolds wrote, using the skull and poop emojis in place of the movie title Deadpool — in keeping with the first movie's off-the-wall viral marketing.
Dennison is a great fit for the Deadpool series, whose fourth-wall breaking humor and lightning quick, snarky dialogue matches the tone that Dennison and Waititi struck in Hunt for the Wilderpeople. I know that we encourage actors to stretch their chops from role to role, but I would be perfectly happy if Dennison just reprised his role of the blunt Ricky Baker in Deadpool 2, wandering into the movie's gory scenes and reacting with only a raised eyebrow and slight bemusement, boasting how he's all about the "skux life."
If Dennison is playing the main kid sidekick to Deadpool, as Brianna Hildebrand did as Negasonic Teenage Warhead in the first Deadpool, his presence would already be a huge 180 from Hildebrand's brooding, silent teenager who played a wonderful straight man to Reynold's wacky Wade Wilson. Whether Dennison is playing a mutant or not is yet to be seen, but I would like to see him be a normal human kid who gets pulled into Deadpool's mess of a life — who approaches existence with the same kind of devil-may-care zeal that Wade does.
Deadpool 2 started filming yesterday. Deadpool 2 will be directed by David Leitch (John Wick) with a screenplay by Rhett Reese and Paul Wernick. Reynolds, Morena Baccarin and Hildebrand are returning to the cast, while Josh Brolin is joining as Cable. The movie is set to hit theaters in 2018.