'The Greatest Showman' Trailer: Hugh Jackman Invents Show Business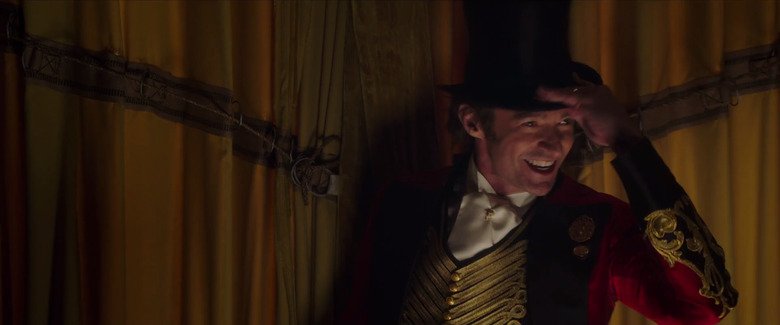 Hugh Jackman is following up his gritty, emotional turn in Logan with a return to his musical roots in The Greatest Showman.
The original musical offers a candy-colored portrait of the birth of show business and the rise of P.T. Barnum, the founder of the famous Barnum and Bailey Circus, as the titular "World's Greatest Showman."
Jackman plays Barnum, a down-on-his luck, unemployed husband and father who gets the radical idea of starting a circus, hiring a group of outsiders and "freaks" to perform in a place where they'll be beloved.
The trailer doesn't feature any of the original songs by Academy Award winners Benj Pasek and Justin Paul (La La Land), but a rousing theme song plays throughout the trailer, as this group of misfits gather together, finding love and family within the circus.
It's easy to see the musical theater actor is in his element in the trailer, grinning ear to ear the entire time and delivering inspirational exposition like "Everyone is special, and nobody is like anybody else. That's the point of my show."
Here's the synopsis for The Greatest Showman:
Inspired by the imagination of P.T. Barnum, The Greatest Showman is an original musical that celebrates the birth of show business and tells of a visionary who rose from nothing to create a spectacle that became a worldwide sensation.
The saccharine, inspirational mood for the trailer can be summarized in the one scene of dialogue that isn't a moving monologue from Jackman's P.T. Barnum, between Barnum and Zac Efron's character at the tail end of the trailer.
"You clearly have a flair for show business," Barnum amiably tells Zac Efron's character, who is resistant to running off and joining the circus.
"For show business? I've never heard of it," Efron responds confusedly.
"Because I just invented it," Barnum says with a beam.
The Greatest Showman is directed by Michael Gracey. Hugh Jackman produced The Greatest Showman alongside Laurence Mark and Chernin Entertainment. Michael Arndt (Toy Story 3, Star Wars: The Force Awakens), Jenny Bicks (Rio 2, Sex and the City) and Bill Condon (Dreamgirls, Beauty and the Beast) wrote the screenplay.The Greatest Showman will hit theaters this Christmas, on December 25.