'Star Trek: Discovery' Story Details And Influences Revealed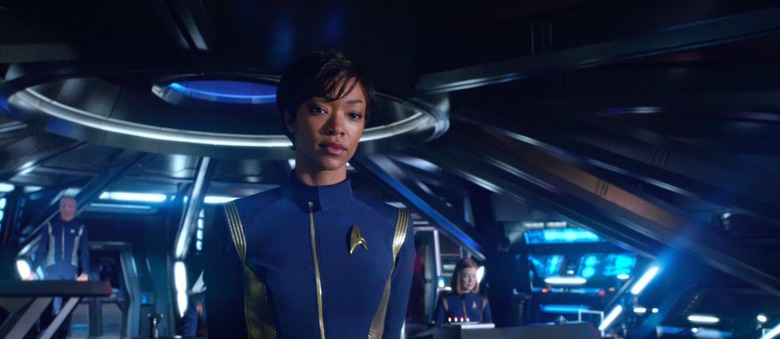 Star Trek: Discovery is the first Star Trek TV show to air in 12 years. With that, come plenty of expectations: a diverse crew, a noble captain and lead character, and a show that boldly explores different planets and story lines.
But Star Trek: Discovery is changing things up. Not only is it airing on the streaming platform CBS All Access, it will feature a lead character played by Sonequa Martin-Green who is not the highest-ranking officer. Showrunners Aaron Harberts and Gretchen J. Berg recently revealed the details of how Martin-Green's story will progress and how it will impact the show.
Harberts and Berg spoke to EW about their template-shifting plans for Star: Trek Discovery, which revolves around Martin-Green's Starfleet First Officer Burnham, "who was the first human to attend the Vulcan Science Academy." Harberts says:
"Burnham [has] spent a lot of time on Vulcan, but she's human. Sarek [Spock's father, played by James Frain] plays an important role in her life, which has been completely planned until she makes a very difficult choice that sends her life on a very different path. When we meet her, she's the First Officer on the Starship Shenzhou [captained by Philippa Georgiou, played by Michelle Yeoh]. And Burnham's choice that we're alluding to is most difficult choice you can make — it affects her, affects Starfleet, affects the Federation, it affects the entire universe. That choice leads her to a different ship, the Discovery [helmed by Captain Lorca, played by Jason Isaacs] and there we begin what Gretchen and I call our 'second pilot.'"
The existence of a "second pilot" within the series seems to be the first part of the show that is affected by Burnham's role as the lead character. In previous Star Trek shows, Michelle Yeoh's Captain Phillippa Geourgiou would typically be the focus of the series. A first officer, able to jump to a new crew, allows for new kinds of storytelling possibilities.
But Berg explains that following Burnham's story gives you a different perspective to a familiar story:
"The joy is in the journey. The advantage to her not being in charge of the bridge right now is we get to tell stories from a very different point of view. It's a fresh feeling because we're not on the bridge all the time. We get access to more parts of the ship."
That Burnham's expanded role will take us out of the Bridge, and the confirmation that Discovery will avoid the long-standing Star Trek rule of no conflict between crew members, which promises a refreshing take on Trek stories.
Harberts commented on the influences of previous Star Trek shows or films on their new series, which further confirms that Discovery takes place in the original timeline and not the newfangled Kevlin timeline established by J.J. Abrams' Star Trek movies:
"I think Nicholas Myers' [sic] film are [sic] a touchstone, and not just because he's been on staff with us. His storytelling is complex and intellectual and yet there's a lot of room for character voices and character work, he's done such an incredible job with the franchise. In terms of scope and scale, there's something about Star Trek: The Motion Picture that really speaks to us as well. CBS has allowed us to find a cinematic language that's wider in scope — our aspect ratio is 2:1 — and it just lends itself to a very lyrical way of telling the story. And just visually speaking, there's also a little hint in terms of what J.J. Abrams did, a little bit, in terms of some of the visuals."
The lens flares for which Abrams are famous are certainly apparent in the trailer for Star Trek: Discovery.
Star Trek: Discovery will premiere September 24 on CBS. New episodes will be available weekly on CBS All Access.