Netflix Buys Dan Gilroy's Untitled 'Nightcrawler' Reunion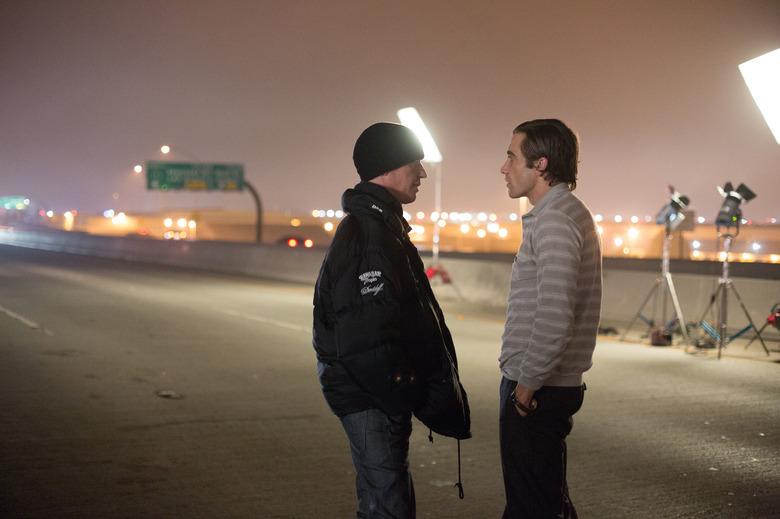 After a bidding war, Netflix won a "heated auction" for the next film from Nightcrawler writer-director, Dan Gilroy. Not only is it going to be the third feature from Gilroy, which makes it exciting enough already, but it's also a Nightcrawler reunion: Jake Gyllenhaal and Renee Russo are starring in the film.
Below, learn more about the Dan Gilroy Netflix project.
Deadline reports the untitled project is set in the art world. There's no plot details or info on Gyllenhaal and Russo's characters, but Gilroy's script is apparently quite different compared to Nightcrawler and his next feature, Roman Israel, Esq., starring Denzel Washington and formerly called Inner City. Less than a week after Gilroy's third directorial effort was announced, the package was bought. Netflix will give Gilroy's film a limited theatrical release when it's available to stream.
Gilroy is making the kind of adult, star-driven and mid-budget movies we wish we saw more frequently in theaters, so it's great to hear we won't have too long of a wait between his second and third movie. His next feature, which also stars Colin Farrell and Carmen Ejogo, was budgeted around $35 million, which is significantly more costly than Nightcrawler's $8 million price tag. The Sony project follows a defense attorney in Los Angeles, played by Washington, who takes a job at a well-respected law firm after his partner dies. In a story that's drawn comparisons to The Verdict and Michael Clayton, Roman Israel gets involved with a dangerous case. According to The Hollywood Reporter, Sony is eying a release date for Gilroy's picture later this year, as they think Washington's performance might be an awards contender.
Before Roman Isreal, Esq., even hits theaters, it's great knowing Gilroy already has another project moving towards the starting line. He made the kind of debut that leaves you interested in everything he touches next. To create a character as rich as Lou Bloom in your first shot behind the camera is no small feat. And then to have a mass audience respond to the sociopathic cameraman with such enthusiasm? Nightcrawler was extraordinary debut that couldn't have gotten a better reception. Lou was a fantastic character on the page – one of the fastest and most enjoyable scripts I've read – but Gyllenhaal added some little details that made him a little more comical and frightening. Gyllenhaal, Russo, and Gilroy working together again is nothing but good news.