'The Dark Tower' Featurette: Idris Elba Brings The Gunslinger To Life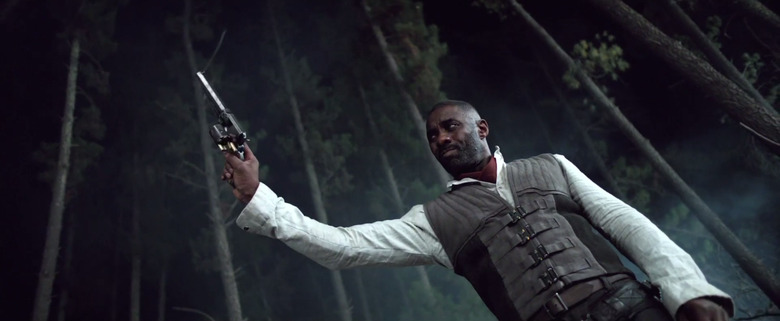 Can the dense mythology of The Dark Tower be condensed into a two-minute featurette narrated by Idris Elba, Matthew McConaughey and Stephen King? Kind of.
The first look at the film outside of its cryptic trailers dives into the motivations of the characters played by Elba and McConaughey, shows some new footage of the film, offers up some glimpses behind-the-scenes, and boils the story down to its essence: a fight between good and evil.
I'll admit I read The Gunslinger, the first book in King's Dark Tower series (I didn't quite like it), and couldn't make much sense of the plot and world in which Roland Deschain roams. But kudos to this featurette for trying to do just that!
Through exposition given by a gravelly-voiced Elba in the film, as well as interviews done with the stars of The Dark Tower, we get some sense of what this story is. And despite its confusing source material, it seems pretty simple: it's a battle for the fate of the world between good (the gunslinger and the boy from Earth who accompanies him, Jake Chambers) and evil (the Man in Black), which rests upon the mysterious Dark Tower.
"Roland is part of a long line of gunslingers sworn to protect the Dark Tower from the Man in Black. Roland's the last of that line," Elba says of his character, Roland Deschain, in the featurette. Meanwhile, McConaughey says of his villain: "The Man in Black, he's the evil in this battle of good versus evil. I need to bring down that tower. Roland is actually the only one who can bring me down."
The two of them outline their roles as new footage from the film plays — we get a peek at Roland's father (Dennis Haysbert), also a gunslinger; the Man in Black strolling through a crowded New York City street; and a few more scenes of Roland in action, whirling his revolvers around with aplomb.
We get King, the author and mastermind behind The Dark Tower series, speaking up about the film, and praising Elba's performance as Roland — hopefully putting to rest all the (sort of racist) naysayers who were upset that they didn't cast a Clint Eastwood look-alike.
"When I started The Dark Tower, I really saw the Gunslinger as this sort of concentrated force. The Dark Tower has always been really important to me, and to see the Gunslinger come to life in film with Idris Elba is really incredible."
The Dark Tower hits theaters August 4.