Joel Edgerton Will Direct Russell Crowe And Nicole Kidman In 'Boy Erased'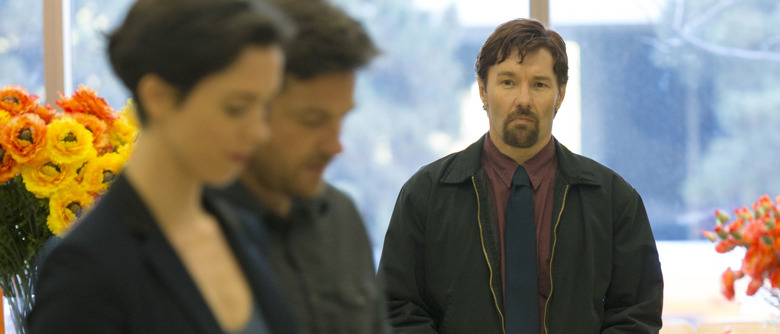 Two years after making his excellent directorial debut, The Gift, actor Joel Edgerton is getting back behind the camera for Boy Erased. His adaptation of Garrard Conley's memoir, "Boy Erased: A Memoir of Identity, Faith, and Family," will star Lucas Hedges (Manchester by the Sea) as Conley, the son of a Christian Baptist Minister who was pressured to go to a gay conversion program.
Below, learn more about the next Joel Edgerton film.
According to The Hollywood Reporter, Boy Erased is going into production this fall. Focus Features will release the drama, which will star Russell Crowe and Nicole Kidman as Conley's parents. When Conley was 19 years old, in college, and living in Arkansas, he was outed to his parents. He either had to risk losing his family and friends or go to a conversion therapy program, called Love in Action, supported by the church.
Conley was actually offered the opportunity to write the adaptation of his story, but he turned it down. He thought it'd be better if an experience filmmaker wrote it. On his website, Conley wrote about his collaboration so far on Boy Erased and what to expect in a great post.
Here's more information on his story and memoir:
The son of a Baptist pastor and deeply embedded in church life in small town Arkansas, as a young man Garrard Conley was terrified and conflicted about his sexuality.
When Garrard was a nineteen-year-old college student, he was outed to his parents, and was forced to make a life-changing decision: either agree to attend a church-supported conversion therapy program that promised to "cure" him of homosexuality; or risk losing family, friends, and the God he had prayed to every day of his life. Through an institutionalized Twelve-Step Program heavy on Bible study, he was supposed to emerge heterosexual, ex-gay, cleansed of impure urges and stronger in his faith in God for his brush with sin. Instead, even when faced with a harrowing and brutal journey, Garrard found the strength and understanding to break out in search of his true self and forgiveness.
By confronting his buried past and the burden of a life lived in shadow, Garrard traces the complex relationships among family, faith, and community. At times heart-breaking, at times triumphant, this memoir is a testament to love that survives despite all odds.
In a statement, Edgerton said he "can't think of a better reason to get behind the camera again. His debut showed such confidence. He's a strong storyteller who should handle Conley's story with care. Edgerton will star in the film as well, playing the therapist leading the gay conversion program.