'Fargo' Star Carrie Coon Boards Steve McQueen's Heist Drama 'Widows'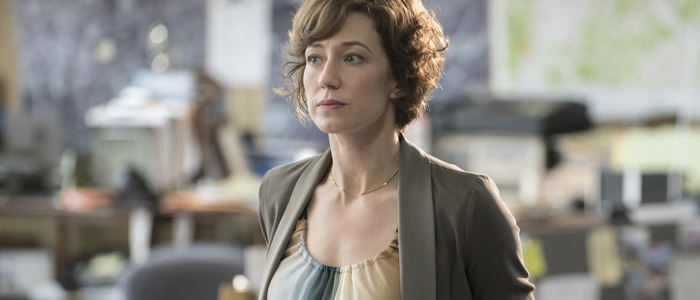 Fresh off her excellent turns as police chief Gloria Burgle in the third season of FX's Fargo and as Nora Durst on HBO's The Leftovers, actress Carrie Coon is the latest to join the superb cast of director Steve McQueen's upcoming heist movie, Widows. Read all about the Carrie Coon Widows casting below.
McQueen, who hasn't directed a movie since his 2013 film 12 Years a Slave won the Oscar for Best Picture, signed on to make Widows back in September of last year. The movie is based on Lynda La Plante's 1983 British miniseries of the same name, and tells the story of a group of armed thieves who are killed during a botched robbery. In the wake of their husbands' deaths, the thieves' wives band together to finish the job the men in their lives couldn't successfully complete. Viola Davis, Elizabeth Debicki, Michelle Rodriguez, Liam Neeson, Colin Farrell, and Daniel Kaluuya all star, and I have to assume that McQueen's muse, Michael Fassbender, will also pop up, even if in just a tiny capacity. (Fassbender has appeared in all of McQueen's movies thus far.)
According to The Hollywood Reporter, Coon will play one of the widows who "declines to join the others in the job," so it's unclear whether she'll just have a super small part or whether her character will still be hanging around in the background, possibly serving as the new heist squad's moral compass. As she's shown in her fantastic TV work this year, Coon can play beaten down and exhausted with the best of them, and I suspect she'll be tapping into that skill set once again here.
The actress, who made her feature debut in David Fincher's Gone Girl, will next appear in Steven Spielberg's The Papers this winter as no-nonsense Washington Post editor Meg Greenfield alongside Tom Hanks and Meryl Streep.
One thing seems crystal clear: with a cast this great and a film with such a juicy premise, McQueen stands to continue the exponential upward trend of box office success throughout his career. 2008's Hunger made $2 million, 2017's Shame made $17 million, 12 Years a Slave jumped up to $137 million, and I can easily see Widows – a non-superhero movie aimed squarely at adults – becoming a full-fledged mega-hit. The film doesn't have an official release date in place yet, but we suspect it'll arrive sometime in 2018. We'll be sure to keep you posted with any new info as soon as we hear it.