First-Ever 'Star Wars' Concert Series Coming To New York City This Fall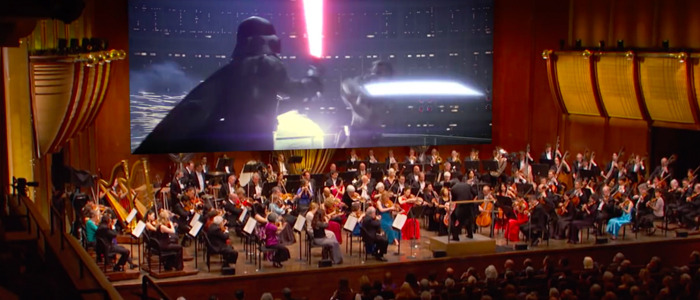 If you're a regular reader of this site, chance are pretty high that you've seen the Star Wars movies more times than you can count. But I guarantee you've never seen them quite like this before. If you're going to be in or around New York City this fall, the New York Philharmonic will be performing John Williams' iconic scores live during screenings of A New Hope, The Empire Strikes Back, Return of the Jedi, and The Force Awakens. Billed as the world's first-ever live performance of the score along with the movies, this sounds like an event fans won't want to miss.
Take a look at a video announcing the special concert series:
The event takes place at New York City's Lincoln Center in the David Geffen Hall. A New Hope will be screened on September 15-16, The Empire Strikes Back will run from September 26-28, Return of the Jedi will play from October 4-5, and The Force Awakens wraps up the concert series from October 6-7. Tickets are available now, and some of the screenings have already sold out. You can purchase tickets to the remaining available shows right here.
A couple of years ago, my wife and I flew from Los Angeles to New York to see a live performance of Howard Shore's masterful score during a screening of The Lord of the Rings: The Fellowship of the Ring at Lincoln Center, and it was a tremendous experience. Watching a conductor take total control of a movie's music right in front of your eyes taught me a lot about the art of film music and put me in the mindset of the director and his composer; instead of allowing the music to wash over you or heighten the film experience as an audience member might, seeing a live concert in front of a movie screen like this means the the music is the experience. It makes you appreciate the music even more – even something as iconic and acclaimed as Williams' work on Star Wars.
Williams himself won't be conducting – the orchestra will be led by David Newman, someone who's scored over 100 movies in his own right. If you're in Los Angeles and want to see Williams conduct, he performs at the Hollywood Bowl every year, but instead of conducting a full orchestral performance of his movie scores straight through like Newman will be doing for these Star Wars screenings, Williams opts for playing a bunch of smaller selections from his lengthy career. Here's a video I shot from last year's performance: