Josh Trank Directing Tom Hardy In 'Fonzo' This Summer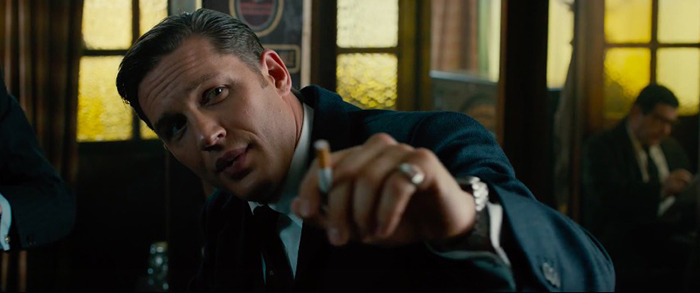 Last year, Tom Hardy and Josh Trank (Chronicle) linked up for Fonzo. Hardy will play legendary gangster Al Capone in the film, which begins production this summer in New Orleans. The story follows Capone near the end of his life.
Below, learn more about Tom Hardy playing Al Capone after the jump.
Trank wrote Fonzo, which John Schoenfelder (Tau) and Lawrence Bender (Inglourious Basterds) are producing. Trank isn't making a conventional biopic that begins with the gangster's childhood and ends with his death. The story begins with Capone at age 47, after he spent around a decade in prison.
Here's the synopsis released over a year ago:
Once a ruthless businessman and bootlegger who ruled Chicago with an iron fist, Alfonse Capone was the most infamous and feared gangster of American lore. At the age of 47, following nearly a decade of imprisonment, dementia rots Alfonse's mind and his past becomes present as harrowing memories of his violent and brutal origins melt into his waking life.
On his Instagram account, Trank posted this illustration for the film and announced Fonzo will hit theaters in 2018:
.... F O N Z O H A R D Y 2 0 1 8 @bronstudios (Illustration by Troy Morgan)
Capone, who once made $40 million a year, spent the last years of his life struggling in Florida. The gangster's mind deteriorated from syphilis, which went untreated for years. His health is what helped get him out of prison. He was one of the first citizens to receive a shot of penicillin, but by the time the disease was treated, the damage was already done to his brain. The gangster had the mental capacity of a child and would spend time talking to dead associates. Near the end of his life, he'd spend time with his grandchildren while his wife, Mae, who passed away in 1986, continued to protect him. Capone died in 1947.
It's a story that could make a great movie and a role that Hardy, being Tom Hardy, could do wonders with. Five years before signing on for Fonzo, the actor was going to star in Harry Potter director David Yates' Capone biopic, Cicero. That project didn't gain much momentum and Yates went off to do Fantastic Beasts and Where to Find Them. As for Trank, he's following up his tumultuous experience on Fantastic Four. The finished movie was not his vision; he unwisely tweeted his cut would've gotten great reviews. After his disappointing sophomore effort and his scrapped Star Wars story, I'm interested in seeing what can accomplish with fewer cooks in the kitchen and Capone's story.
Fonzo opens in theaters sometime in 2018.