'Black Panther' Villain Nightshade Was Hiding In Plain Sight In The Trailer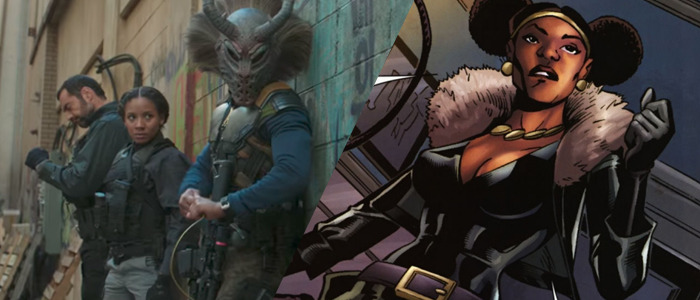 We know that Chadwick Boseman's heroic Wakandan king T'Challa has to face off against villains like Erik Killmonger (Michael B. Jordan) and M'Baku, aka Man-Ape (Winston Duke) in Marvel Studios' Black Panther, but those aren't the only foes he'll go claw to claw with in the film. Turns out there's another villain in the movie, and we've already seen her briefly appear in the teaser trailer: Tilda Johnson, aka Nightshade. Read on to find out more about the Black Panther Nightshade news.
BirthMoviesDeath pointed us to this tweet from actress/singer Nabiyah Be, who confirmed her role as one of the Black Panther villains and shared a screenshot from the trailer that features her character next to Jordan's Killmonger:
In the comics, Nightshade (who previously went under the names Dr. Nightshade and Deadly Nightshade) is a self-taught genius who invented a serum that turns people into werewolves...and since the Marvel Cinematic Universe hasn't gotten quite that outlandish yet, I'm guessing she'll have a slightly different skillset in Black Panther. Her character also possesses the ability to control men (and sometimes animals) through pheromones, which still seems a little goofy but is definitely closer to the level of plausibility we've seen in the MCU thus far.
BMD also points out that Nightshade hails from New York, which is where Killmonger's family moved after being banished from Wakanda. Killmonger certainly has a chip on his shoulder, and it looks like he was able to recruit his fellow New Yorker to help him try to take down T'Challa.
And speaking of villains, don't forget about Andy Serkis' Ulysses Klaue, who popped up opposite Martin Freeman's CIA agent Everett K. Ross at the beginning of the movie's first teaser. Who knows what that guy has up his sleeve?
Black Panther hits theaters on February 16, 2018.
Marvel Studios' "Black Panther" follows T'Challa who, after the death of his father, the King of Wakanda, returns home to the isolated, technologically advanced African nation to succeed to the throne and take his rightful place as king. But when a powerful old enemy reappears, T'Challa's mettle as king—and Black Panther—is tested when he is drawn into a formidable conflict that puts the fate of Wakanda and the entire world at risk. Faced with treachery and danger, the young king must rally his allies and release the full power of Black Panther to defeat his foes and secure the safety of his people and their way of life.