Ron Howard To Take Over Directing The 'Han Solo' Movie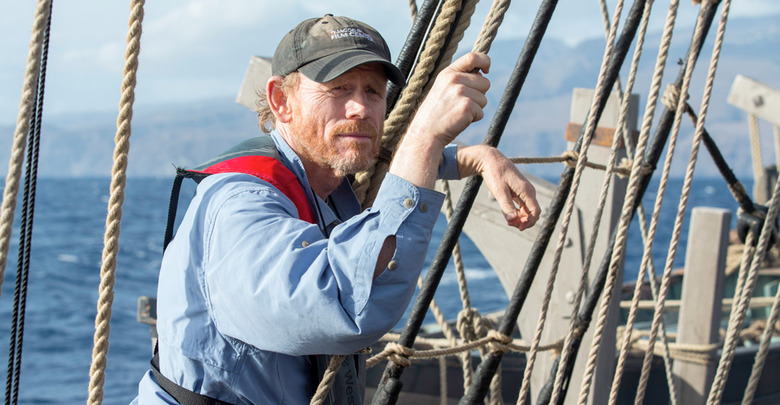 Ron Howard is stepping in to direct Lucasfilm and Disney's untitled Han Solo movie, taking over the production after original directors Phil Lord and Christopher Miller were fired with three weeks left to the production.
Find out more about Ron Howard directing Han Solo after the jump.
The Hollywood Reporter has announced that Howard will take a look at the "rough edit to see what the project has and still needs." Howard will also meet with the actors to "soothe a rattled set." The cast members include Alden Ehrenreich who plays the titular snarky smuggler, Donald Glover as Lando Calrissian, as well as Woody Harrelson, Emilia Clarke and Thandie Newton.
The production has three weeks of principle photography and five weeks of reshoots planned in the schedule.
Lucasfilm officially announced Howard's role as Han Solo director on Star Wars.com, with Lucasfilm President Kathleen Kennedy issuing the below statement:
"At Lucasfilm, we believe the highest goal of each film is to delight, carrying forward the spirit of the saga that George Lucas began forty years ago. With that in mind, we're thrilled to announce that Ron Howard will step in to direct the untitled Han Solo film. We have a wonderful script, an incredible cast and crew, and the absolute commitment to make a great movie. Filming will resume the 10th of July."
Howard is a safe bet to finish the production of Han Solo, Lord and Miller had spent four-and-a-half months directing— a late-game move that shocked much of Hollywood. The Oscar-winning director for 2002's A Beautiful Mind has several industry connections to Star Wars and Lucasfilm, having acted in George Lucas' 1973 debut film American Graffiti, and helming Lucas' 1988 pet project Willow. He is a part of the old guard of Hollywood, which is in line with Kennedy's approach to the Star Wars movies.
Lord and Miller were fired from the set of Han Solo after reportedly clashing with Kennedy over the vision and style for the Star Wars standalone prequel film. The directing duo were chosen to helm the Han Solo prequel movie after their irreverent comedies 21 Jump Street and The Lego Movie were huge critical and commercial successes. However, it seems their fast-and-loose directing style clashed immediately with Kennedy, who valued faithfulness to the script over Lord and Miller's more improvisational style.
Howard is as establishment Hollywood as you can get, with movies ranging from prestige pictures like A Beautiful Mind and Apollo 13 to thrillers like The Da Vinci Code and the racing biopic Rush. And let's not forget his gift for comedy — which seems to be a priority for this film — producing and narrating Arrested Development. While his recent movies like Inferno and In the Heart of the Sea were duds at the box office, he will probably be a reliable fixer for the embattled Han Solo production.
The untitled Han Solo movie is set to hit theaters May 25, 2018