'Game Of Thrones' Season 7 Trailer Looks Like The Biggest Blockbuster Of The Year: "Winter Is Here"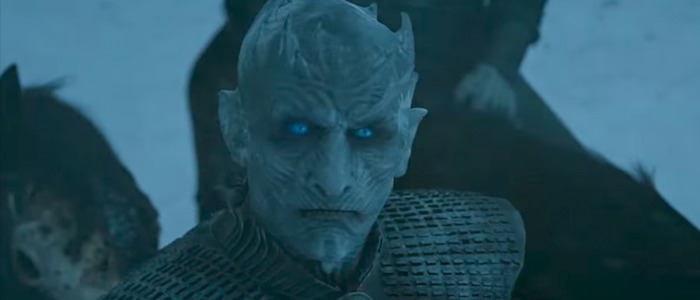 HBO has released a brand new trailer for their mega-hit fantasy series Game of Thrones, and the network has officially outdone themselves this time. The show no longer looks like a TV show: it's clearly moved into the huge budget blockbuster territory. I've grown numb to people claiming that things are "epic" over the past few years, but there truly is no other word that does this trailer justice. Winter is definitely here.
Game of Thrones Season 7 Trailer
The sheer scope of this show is almost beyond comprehension at this point, and there are so many jaw-dropping moments that I had to watch the entire trailer with my mouth agape. I'm not normally prone to hyperbole, and I realize I've only had about two minutes to sit and think about this statement, but this may honestly be the greatest trailer I've ever seen. Ramin Djawadi's goosebump-inducing score, the incredible voiceovers, and those stunning visuals all come together perfectly.
It takes watching something like this for me to realize that I've been taking this show for granted. Visuals like this are not normal for a television show, and even though Game of Thrones has been consistently building over the years, it feels like they've hit a new plateau here.
Remember the early seasons of this show, when showrunners David Benioff and Dan Weiss didn't have the budget to actually film all of the story's battle sequences and they had to come up with creative storytelling workarounds to impart that information to the audience? That forced creativity resulted in some terrific character-building moments in multiple two-hander scenes that allowed those early episodes to hit their required run times, and they've paid dividends now because seven seasons in, the audience cares about these characters in a deep and enduring way.
Looking back on those early seasons, it almost looks like an entirely different show than the one depicted in this trailer. But thankfully it's become such a worldwide success that Benioff and Weiss are playing with bigger budgets than anyone in the history of the medium. It's a different type of show now, all right, and this is becoming a no-holds-barred race to the finish line in which massive battles are going to become so common that the early days of the show will seem like a distant memory with every clang of the sword and breath of fire. I can't wait to see how it plays out.
Game of Thrones season 7 debuts on July 16, 2017.