Jack Black To Star In Eli Roth's Adaptation Of 'The House With A Clock In Its Walls'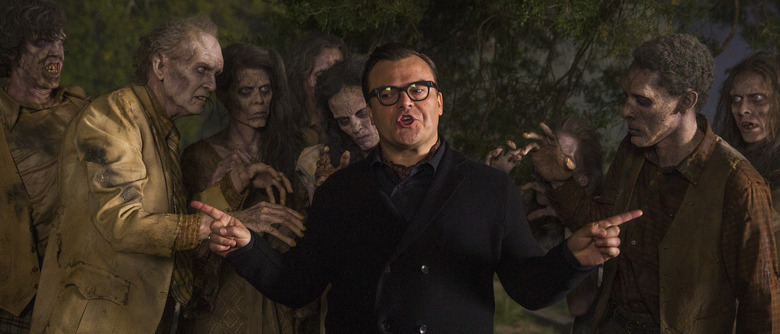 Hostel and Knock Knock director Eli Roth now has two projects in the works at Amblin Entertainment. The newly announced pic, The House With A Clock In Its Walls, will star Jack Black and be produced by James Vanderbilt (Zodiac). It's an adaptation of John Bellairs and illustrator Edward Gorey's 1973 novel, which is a part of a 12-part series.
Below, learn more about the new Eli Roth Amblin project.
Bellairs' story is about a 10-year-old, Lewis Barnavelt, who discovers hidden passageways in his Uncle Jonathan's home. The young orphan discovers magic and danger in his wizard uncle's house. Black's role is unconfirmed, but one would presume he's playing Lewis' uncle. It's also unclear Roth's film will take place the same year as the novel, 1948.
According to Deadline, the creator of Supernatural and the canceled and revived Timeless, Eric Kripke, is writing the script. Bellairs, who passed away in 1991, was originally going to write "The House With A Clock In Its Walls" for adults, but following his editor's advice, he wrote it for younger readers. The story involves witches, sorcerers, and a countdown until doomsday.
Here's a full summary from Bellairs' website:
Lewis had always wanted to live in a house like Uncle Jonathan's — full of marble fireplaces and secret passageways and dozens of unused, unexplored rooms. And living with Uncle Jonathan, a real wizard, was full of fun and surprises. But while Uncle Jonathan practiced funny and comfortable white magic, the original owner of the old house, Isaac Izard, had been an evil sorcerer. Isaac Izard had devised a plan for bringing about the end of the world. Somewhere in the walls of the house he had hidden a clock. Every night Lewis and Uncle Jonathan could hear it ticking — sometimes loud, sometimes soft — marking off the minutes until doomsday.  Lewis knew they had to find the clock before it was too late. Then he decided to dabble in a litte magic of his own, and their time almost ran out.
Lately, Roth has been tackling projects far different from his early horror films. His next movie, the remake of Death Wish, come out this Fall, and it's the start of what MGM hopes is a new franchise. Before dropping out over a budget dispute, he was set to direct the mega-shark movie, Meg. After a few years of directing cheaper, uncompromised horror films, he's developing some bigger budget, more commercial projects, including Amblin Entertainment's adaptation of Steve Niles' ("30 Days of Night") comic book "Aleister Arcane," which will star Jim Carrey.