Sequel Bits: 'Mission: Impossible 6', 'Transformers,' 'Bad Boys 3,' 'Jurassic World: Fallen Kingdom' And More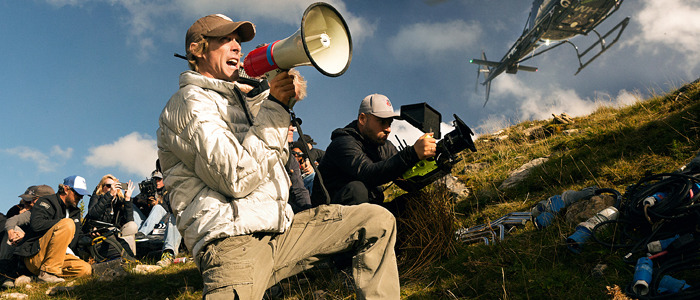 In this edition of Sequel Bits:
Writer/director Chris McQuarrie shares a photo of the kick-ass female cast of Mission: Impossible 6
Michael Bay says he's really done with the Transformers franchise this time
Get another look at Colin Firth in Kingsman: The Golden Circle
Director Jorge R. Gutierrez will make The Book of Life 2
And more!
It's always fun to see how Tom Cruise tries to top his insane stunts in a new Mission: Impossible film, but Cruise isn't the only draw when it comes to M:I 6. Chris McQuarrie recently shared this photo of the female stars of the new film, including Vanessa Kirby, Angela Bassett, Rebecca Ferguson, and Michelle Monaghan. Two of those women are returning from previous movies, so it seems like the ladies are going to be more of a factor here and this film will actually take the time to address Ethan Hunt's history with women (including his wife, Julia).
Speaking of Transformers, director Michael Bay spoke with Fandango and promised, yet again, that this entry will be his last stand when it comes to the giant robot film franchise. "This is my last of the franchise, so I guess it's a final chapter in that regard," he said. Sure, Michael. We've heard that one before.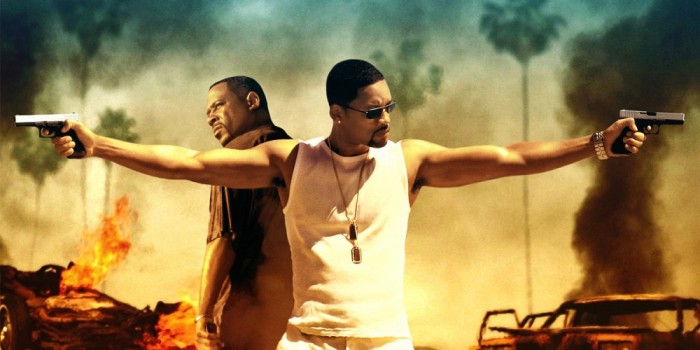 One more piece of Bay-centric news before we move on. CinemaBlend spoke with the director about Bad Boys 3, which once had The Grey and The A-Team filmmaker Joe Carnahan signed on to write and direct, but now has a vacant director's chair just waiting to be filled. But it doesn't sound like Bay is interested in revisiting the franchise he ushered in:
"Pretty soon they're going to be old boys, okay. Pretty soon they're going to be retired cops instead of active-duty cops. It's taken a long time to get that thing going, and I'm not involved in getting it going. They should get it going soon, though. You could definitely get Martin [Lawrence] and Will [Smith] to be funny again – those were fun movies to do."
Bad Boys for Life is supposed to hit theaters on November 8, 2018.
Happy Father's Day from #DespicableMe3 pic.twitter.com/eounzi5JHK

— Despicable Me (@DespicableMe) June 18, 2017
Illumination Entertainment released a new bit of footage from Despicable Me 3 for Father's Day this past weekend, and it's full of exactly the level of humor you expect from these movies.
i'm having a meltdown over harry hart in a fucking cowboy hat . what is kingsman gonna bE LIKE I'M CRYING pic.twitter.com/ML7CI1UQMB

— nadine 🌻 (@thetarazis) June 19, 2017
This Kingsman: The Golden Circle stand is from the Barcelona Convention Center during CineEurope 2017, and features an eye-patch-wearing Colin Firth wearing a cowboy hat and coat that makes him look more in line with his younger American Statesmen counterpart, Channing Tatum. Is the character we think is a resurrected Harry Hart actually a twin brother? How about a clone? ScreenRant seems to think either is possible, though they admit there's no real basis for either guess.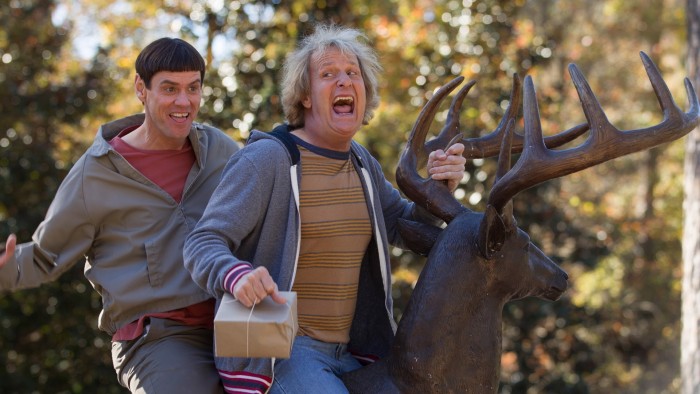 The Hollywood Reporter says the producers of the original 1994 comedy Dumb and Dumber have sued New Line Cinema for breach of contract, claiming that the company didn't offer them the chance to make the sequel even though their contracts guaranteed them that right. Dumb and Dumber To came out back in 2014 and was promptly forgotten, but not by these dudes. I guess these things can take a while to get through the justice system.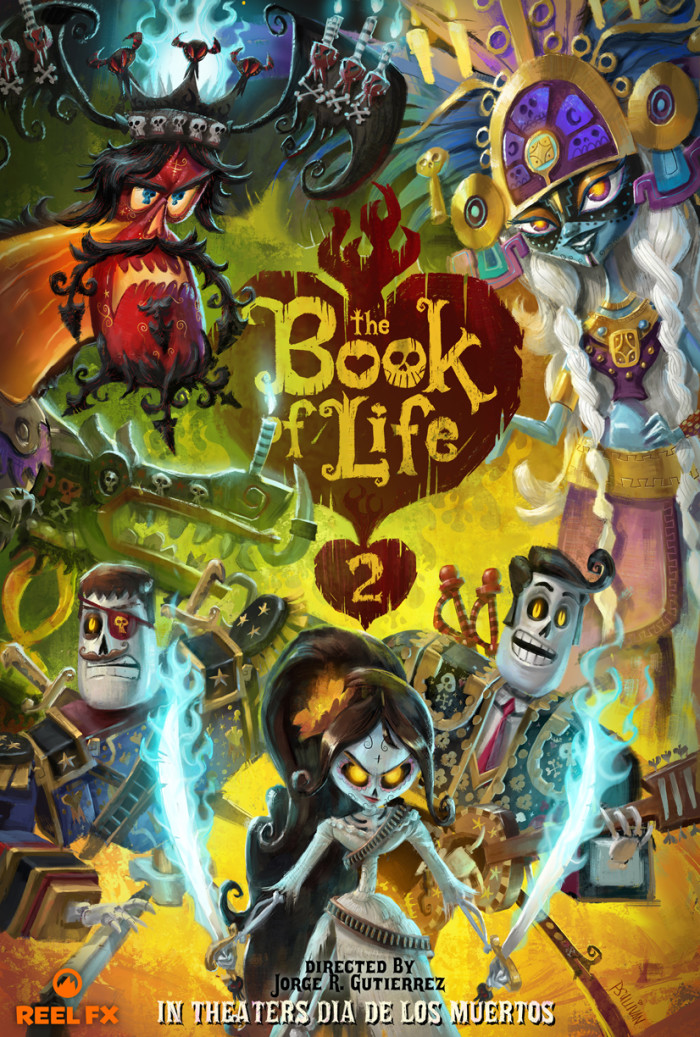 The Book of Life director Jorge R. Gutierrez made a fake poster for The Book of Life 2 (above) for an art project about hypothetical film sequels, but now the sequel will become a reality. Variety says Gutierrez will direct the new movie in stereoscopic 3D, and the filmmaker offered a brief tidbit about what it'll be about:
"People asking what was gonna happen with the characters, what's gonna happen to the gods? The sequel embraces all these things and, in a weird way, is a continuation of the story with everybody you love from the first movie."
I didn't see the first movie when it came out in 2014, but I've heard great things about it and the film clearly has a passionate fan base, so I'm sure this announcement will thrill people who have been waiting to hear about a potential sequel for years.
Acting takes a lot of Heart and a lot of Brain... thanks so much for this photo @BryceDHoward with your @JurassicWorld 2 script! pic.twitter.com/5nYfCvOQl3

— the Awkward Yeti (Nick Seluk) (@theawkwardyeti) June 15, 2017
LRMOnline took one look at the picture of Jurassic World: Fallen Kingdom star Bryce Dallas Howard with her script and began speculating that the movie's ending has been rewritten based on the color of its pages:
It's a bit difficult to say what this could mean for the script. According to the WGA, when a script is rewritten, the pages change color based on the revision number. The pages start out white, then go into blue, pink, yellow, green, goldenrod, buff, salmon, cherry, and then the cycle starts all over again. I'm no color expert, but those later pages look to be goldenrod, meaning that it could have had a few more revisions than the first two acts of the script.
That's admittedly interesting info about the color schemes, but the site has no clue when those rewrites happened, so there's absolutely zero cause for alarm at this point.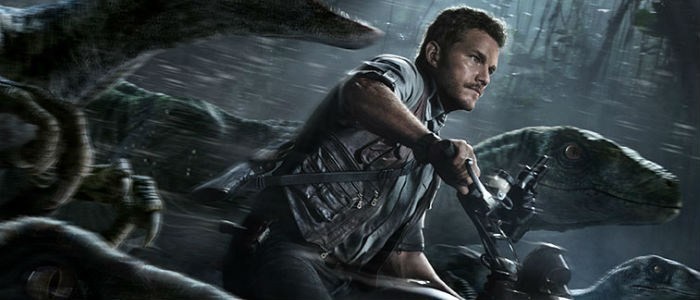 And speaking of Jurassic World: Fallen Kingdom, a local Hawaiian newspaper reports some road closures near the Heeia Kea Small Boat Harbor for filming, which will take place at that location this week and continue into next week.