Super Nintendo World Concept Art Reveals Zelda's Kingdom, Donkey Kong Country & More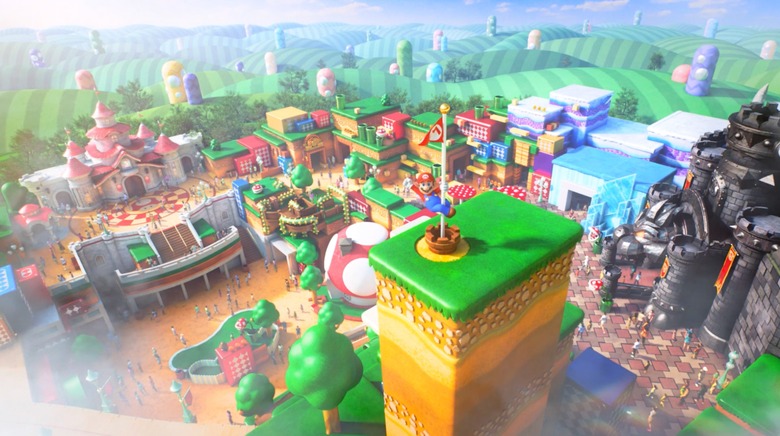 Some new Super Nintendo World concept art has appeared online, giving us a much clearer idea of what to expect from Universal Studios upcoming Nintendo-themed land. The images also reveal where the first United States version of the theme park land will be constructed. Hit the jump to find out.
Super Nintendo World Concept Art
— James B (@leavesonthelawn) June 10, 2017
The images were posted by Gary Snyder on Twitter. The concept images above show where the first U.S. version of Super Nintendo World will be constructed within Universal Studios Florida. The good news is that one of my favorite rides at Universal Orlando, E.T. Adventure, is safe. I'm guessing Steven Spielberg had something to do with saving the attraction as it was long rumored to be part of the Nintendo renovation with some suggesting they would be using the E.T. show building for the land's signature Mario Cart attraction. But as you can see on the map diagram above, Super Nintendo World will be constructed between Simpsons land and E.T. Adventure, taking over most of Woody Woodpecker's Kid's Zone including Curious George Play Area, Woody Woodpecker's Nuthouse Coaster, Fievel's Playland, Animal Actors Studio and the A Day in the Park with Barney show.
Mushroom Kingdom
We also see here a rendering of the entrance to Super Nintendo World, where guests will enter through Peach's castle (located roughly where Animal Actors is) into a large indoor area that will be themed as the Mushroom Kingdom from Super Mario Bros. We saw a lot of this concept from the Super Nintendo World reveal earlier this month. Mushroom Kingdom will have two levels, and this map describes some of the things we'll find in this land:
World of Nintendo Superstore: which will be stocked with all the Nintendo merchandise you could ever want.
Interactive Gaming area: which I assume will be more than just Nintendo games set up for people to play.
Bullet Bills flying ride: which I assume will be a reimplementation of the popular kid's Dumbo attraction.
Koopa Troopa's Spinning Shells Ride: another kids ride which will likely be a reimplementation of Mad Tea Party.
Pokemon Training Academy: It's unclear if this is a show like Jedi Training Academy at Disneyland or an interactive exhibit.
Mario and Luigi's Pizza: So obvious, an eatery based on the infamous Italian plumber brothers.
Character Stage: Here is an area to meet some of your favorite Nintendo characters
More Retail: There are a couple more sports marked retail which will probably be smaller shops.
Kirby's Kid's Playground
The land will have a small wet/dry play area for young children based on the Kirby games. You enter and leave the area through huge green pipes. There is a round kid's ride scheduled for this land, although there is no indication of what it is exactly — but it looks like it spins in circles.
Donkey Kong Island
Taking inspiration from the Donkey Kong Country video game series, this land offers some options for older kids and adults.
Kong Jungle Playground: Donkey Kong Island will feature a bigger kids tree fort play area like Tarzan's Treehouse at Disneyland or the Redwood Creek Challenge Trail at Disney California Adventure. The tree fort is themed to the one Donkey Kong lives in at the beginning of the game.
Monkey Mines Madness Coaster: The second attraction is an outdoor coaster using the boom coaster patent that we previously reported on, that will allow the mine cart vehicle to jump over gaps in the ground. It's worth noting that this is a completely new coaster and not just a retheme of the Woody Nuthouse coaster.
Hyrule: Zelda's Kingdom
The design also shows Hyrule, from the popular Legend of Zelda video game series, which may or may not be featured in the final construction.
Hyrule Castle Attraction: A small castle area is to contain a show with Princess Zelda and an implementation of the 'puzzle moving theater' patent. The concept art doesn't reveal too much.
Other areas in this land include locations from the games like Great Deku Tree and Kokiri Village, as well as an "interactive area".
Mario Kart Ride
Labeled on the concept art as Super Mario World Ride, the Mario Kart attraction will be the theme park land's signature ride. It's not another 3D glasses screen simulator, but a practical thrilling dark ride. It will be using the drifting patent that Universal filed a couple of months back. Guests seem to be riding in a Mario Kart race that will go through many different Mario worlds. It's unclear how enemies like Bowser will appear on the racetrack, I doubt it would be animatronic but instead some new kind of holographic projection or maybe even augmented reality glasses.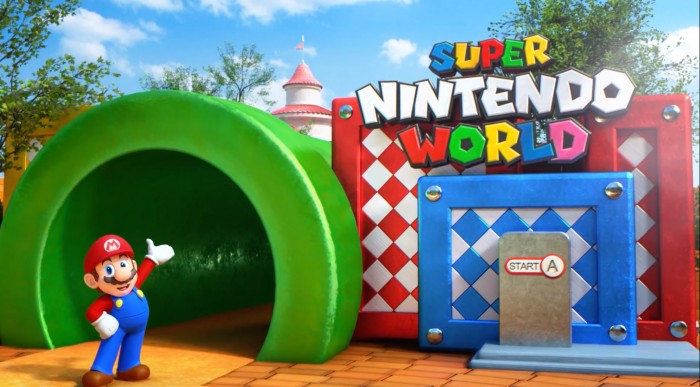 Rumors
Some of these plans may be early designs. There is a lot of rumbling that Mario and Donkey Kong are the only things set in stone planned for phase one of the construction and that Zelda and Kirby areas may be part of future expansions. There have also been rumors that they will be building a Yoshi all-ages dark ride attraction, but there seems to be no indication of these on the designs.
We also have heard that a smaller version of Super Nintendo World is eventually planned for Universal Studios Hollywood. When and where that may be constructed is still in flux. I would expect the Japanese version of the land to open first, followed by the Orlando edition which will begin construction sometime after after Halloween Horror Nights 27, and then Universal Hollywood.
All of the concept art gets me very excited about the potential for Super Nintendo World, and the designs for the Mario Kart ride look to be employing next level technology, which is very exciting.